So Brave: PEOPLE Staffers Tried Everything on Taco Bell's New $1 Breakfast Menu
We can all agree there's nothing better than starting the morning with a good breakfast, which is why the announcement of Taco Bell's $1 breakfast menu, which launched on Thursday, is one of the best things to happen to us this year, maybe ever.
But how does the food taste? Can tacos for breakfast ever not end in disaster?
We gathered four of our most breakfast-obsessed, thick-stomached staffers to taste all four new items that appear on the $1 menu: the Mini Skillet Bowl, a bowl filled with seasoned potatoes, scrambled eggs, melty cheese and Pico de Gallo; the Breakfast Soft Taco, a warm flour tortilla filled with scrambled eggs and Bacon or Sausage; and the Sausage Flatbread Quesadilla, a "pillowy" grilled flatbread filled with a three-cheese blend, sausage, and scrambled eggs. (Note: There are a total of 10 items on the breakfast dollar menu, including such standards as hash browns, grilled breakfast burritos and Cinnabon delights.)
RELATED: James Corden Rants Against McDonald's All-Day Breakfast: 'I Can't Be Trusted with 24/7 McMuffin Access'
Our conclusion? The new items are (mostly) yummy — and unfathomably cost-effective. We do not, however, recommend eating them all in one five-minute sitting, as we did, under the hot lights of a camera.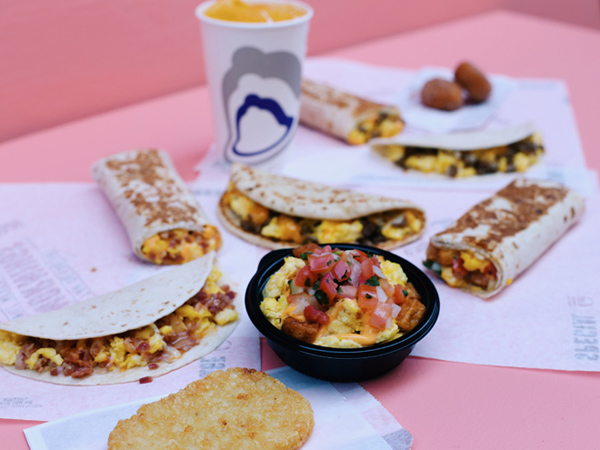 Taco Bell
Favorites emerged almost immediately: Taster Alex Heigl gravitated towards the Mini Skillet Bowl, which he calls "cheese-forward and satisfying." The bowl proved itself to be one of the lighter options, as it wasn't wrapped in a carbohydrate (plus it was topped with pico, making it basically a salad.) Another universally enjoyed item was the Sausage Flatbread Quesadilla— each of us finished one. The flatbread truly was "sealed to lock in the flavors," as Taco Bell had promised. (Some of us actually tried to open the flatbread to stuff in hash browns, but it was sealed so forcefully that we couldn't.)
RELATED: Kelly Rowland Is Living Our Best Life: 'I Eat Tacos for Breakfast, Lunch and Dinner Sometimes'
RELATED: We Deconstruct President Obama's Bi-Partisan Taco Order at SXSW
While we all adore the Breakfast Crunchwrap ($2.49) — because food items stuffed with fried potatoes are better than food items not stuffed with fried potatoes — our favorite $1 breakfast deal is conclusively the Sausage Flatbread Quesadilla, followed closely by the Mini Skillet Bowl.
Just promise us you'll learn from our mistakes and eat your breakfast slowly.
— Maria Yagoda, @mariayagoda