EXCLUSIVE: All the Details on The Bachelor's Ben Higgins and Lauren Bushnell's Romantic, Champagne-Filled 'First Date'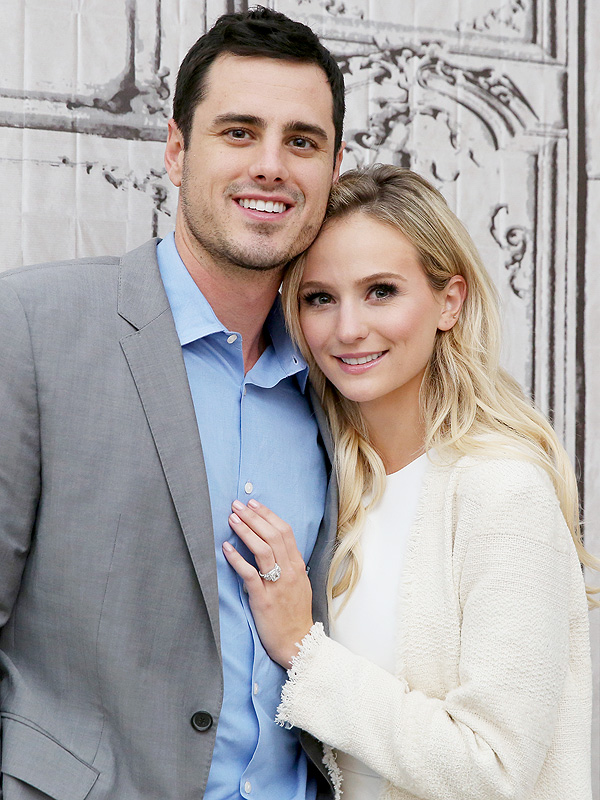 Mireya Acierto/FilmMagic
The Bachelor's newest power couple Ben Higgins and Lauren Bushnell may already be on their way to the altar, but they're just now celebrating an early milestone: their first date — off the reality show, that is.

Dining at celebrity chef Marc Murphy's Landmarc restaurant in New York City on Wednesday night, Bushnell posted an Instagram of her hand intertwined in fiancé Higgins', showing off her dazzling 4.25-carat engagement ring in front of a bottle of Pol Roger champagne.
"FIRST DATE," she captioned the shot, adding, "many more to come."
RELATED: Chef Marc Murphy Reveals the Keys to a Perfect Date Night
Beyond the bubbly, the couple feasted on apps like housemade stracciatella and foie gras terrine, and for her entrée Bushnell had the restaurant's signature lamb chops (full recipe below), while Higgins chose the mushroom pappardelle with truffles.
An eyewitness tells PEOPLE the couple was "very affectionate" with each other and "friendly," graciously taking pictures with fans who approached their table.
RELATED: Every Real Housewives Vacation Destination Ever, Ranked by Most Dramatic Moment
"I was thrilled Ben and Lauren chose Landmarc to celebrate their first 'official' date as an engaged couple," chef Murphy tells PEOPLE. "They were fun, down-to-earth and are both so gracious and kind. Plus, they're great eaters."
Higgins returned the sentiment, posting a picture with the Chopped judge with the caption "First date success! Even got a surprise meeting from the man himself @chefmarcmurphy!"
Though they declined the offer to get married immediately on the show, the pair is in the process of moving in together and have told PEOPLE they plan to get married sooner than later.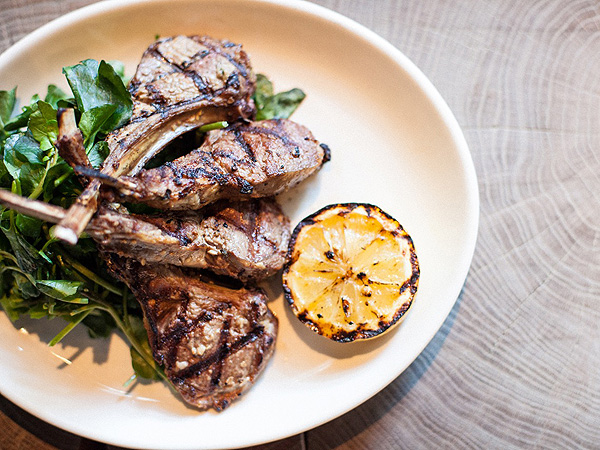 Landmarc Restaurant
Chef Marc Murphy's Lamb Chops Scottadito
From Murphy's cookbook, Season with Authority
Serves 4
½ cup plus 2 tbsp. extra-virgin olive oil, plus more for oiling the grill
3 garlic cloves, minced
2 tbsp. roughly chopped fresh thyme leaves
12 (½-inch-thick) lamb rib chops (see Tip)
Kosher salt
Freshly ground black pepper
2 lemons, halved crosswise
2 bunches (about 8 cups) watercress
RELATED: Make the Spicy Margarita from Sean Penn and Charlize Theron's L.A. Date Night
Tip: Ask your butcher to separate the rack of lamb ribs for you, but make sure you tell him or her to keep the fat on (i.e., do not French the bones)—you want the fat for grilling. Not only will it prevent the meat from drying out, but it will also give a great amount of flavor to your finished dish.
1. In a large bowl, combine ½ cup of the olive oil, the garlic, and thyme. Add the lamb chops and turn to coat. Cover and refrigerate for at least 3 hours or preferably overnight. You can also do this in a large resealable plastic bag.
2. Preheat a grill or heat a grill pan over moderately high heat until hot.
3. Lightly dip several paper towels in oil and carefully wipe the grill grate. Remove the lamb from the marinade and scrape off any excess. Generously season the lamb with salt and pepper. Place the lamb on the grill and cook until nicely charred and well-marked, about 3 minutes on each side. Place the lemon halves on the grill, cut side down, to grill while you cook the lamb.
4. Divide the watercress among four plates and drizzle with the remaining 2 tablespoons olive oil. Place the chops on top of the watercress and squeeze the grilled lemon over the lamb and watercress. Serve immediately.
—Shay Spence, @chezspence