We Tried It: Ashley Benson's High-Intensity Interval Training Class (on a Rooftop in Beverly Hills)
What Is It:
Speedplay
is a 60-minute high-intensity interval training class that combines running, rowing and floor exercises to burn up to 900 calories per session.
Who Tried It:
Gabrielle Olya, PEOPLE writer and reporter
Level of Difficulty: 8 (on a scale from 1 to 10). This class is HARD. That said, all of the moves can be modified for different fitness levels. It's really up to you to push yourself to run faster or do more reps, so you can really cater the workout to your own abilities.
RELATED: Ashley Benson: 'I Get Told All the Time to Lose Weight'
Just the phrase "high-intensity interval training" intimidates me, but I was willing to try Speedplay knowing that there was a chance Ashley Benson – who is a fan of Speedplay – would be in the class with me (I'm unabashedly a huge Pretty Little Liars fan).
Benson wasn't in my class, but my first impressions of the studio were enough to distract me from the challenging workout I knew I was about to do. Located on the rooftop of a building in Beverly Hills, the studio's indoor/outdoor space provides incredible 360-degree views of all of L.A.
After gawking at the views it was time to work out. We started with a warm-up outside with some stretches, squats, jumping jacks and a jog around the studio. Then it was time to get down to business!
The class was broken down into four 9-minute sections, with a brief period of recovery in between each one to let the heart rate come down before cranking it back up again (this HIIT technique is what burns serious calories!). We started by doing running drills on a Woodway Curve, a unique (and intimidating at first) non-motorized treadmill. I was already feeling exhausted at the 3-minute mark but somehow I managed to get through the nine minutes (though I may have been running more slowly than everyone else in the class).
Next, we moved to exercises on the floor. We rotated between five different exercises for a minute each – close presses/flies with dumbbells of our weight choosing (I opted for 5-lb. weights which is more than I usually do but the lightest they had!), burpees using a Bosu ball, military presses, lateral box jumps on the Bosu ball, and crunches on the Bosu.
The third round of movements took us to the row machines. We rowed for 250 meters, then did 12 forward presses with a hand weight, and switched back and forth until the nine minutes was up.
RELATED: We Tried It: A Tara Lipinski Figure Skating-Inspired Barre Class
Finally, we made it to our final round! We did a minute each of split squat jumps, bicep curls with a barbell, overheard presses with a barbell, squat jacks and then held a V-shape with our bodies to really work our cores.
While I was struggling in the beginning, I actually felt energized by the last round and couldn't believe it when we were in the final minute of our workout!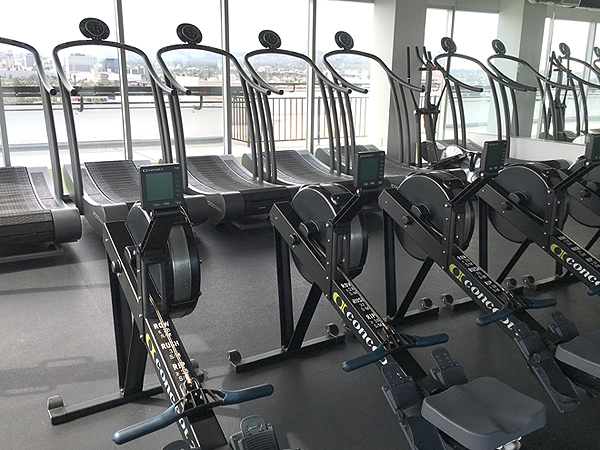 Nicole Sands
The Verdict: I now understand why Ashley Benson is in such good shape! The class was difficult – and I definitely thought I might pass out at certain points! – but I felt so accomplished when I finished it. I started feeling sore almost immediately, and really felt like I worked my entire body. And the amazing views from the studio were an awesome added bonus!