Alex Guarnaschelli's Go-To Easter Recipe: Carrot Cake with Fresh Fruit Glaze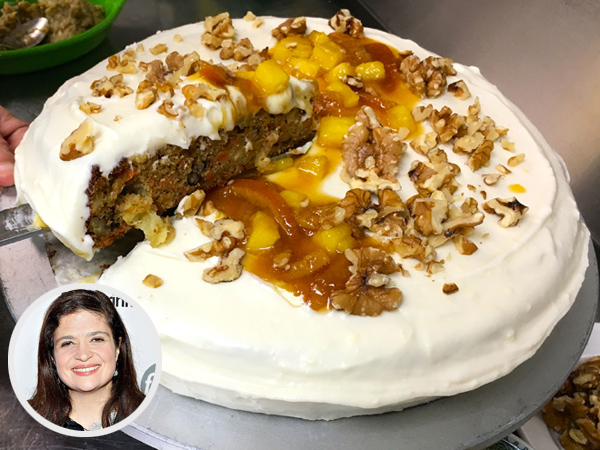 Courtesy Alex Guarnaschelli; Inset: Getty
Alex Guarnaschelli is an Iron Chef, Food Network celebrity chef, author of Old-auchool Comfort Food and the executive chef at New York City's Butter restaurants. Read her PEOPLE.com blog every Tuesday to get her professional cooking tips, family-favorite recipes and personal stories of working in front of the camera and behind the kitchen doors. Follow her on Twitter at @guarnaschelli.

Why does carrot cake not get the respect it deserves?
I feel like it is just one of those cakes that borders on some "healthy" category because of the carrots. And let's be honest: Chocolate cake is really the ultimate. Either yellow cake with chocolate frosting or chocolate cake with chocolate frosting are likely my favorite cakes. But carrot cake is right up there. Especially when gussied up with a goopy, tangy frosting.
RELATED: Alex Guarnaschelli's Special Weeknight Dinner: Seared Rib-Eye with Maître d'Hotel Butter
I like to strengthen the carrot flavor of the cake with tangy ingredients like fresh ginger and orange juice. While a classic gooey and creamy frosting is my favorite, a fruity (and lighter) glaze can also be a fun change of pace, depending on what kind of mood you're in.
The nuts in the cake can be omitted but the texture and richness of them really adds something special here. I use store bought orange juice (as opposed to freshly squeezed) because it has more body and does more good for the texture of the batter.
RELATED: The Cutest Recipes to Make this Easter
Alex Guarnaschelli's Carrot Cake
Serves: 10-12
1½ cups all-purpose flour
1 cup sugar
1½ tsp. baking soda
1 tsp. baking powder
1 tsp. cinnamon
½ tsp. ground cloves
½ tsp. ground nutmeg
1 tsp. freshly grated ginger (note: you can easily substitute dry ground ginger, if desired)
1 tsp. kosher salt
⅔ cup vegetable oil
3 large eggs, lightly beaten
2 cups peeled, grated carrots
½ cup walnuts (optional)
½ cup canned pineapple, fully drained and crushed
½ cup orange juice
1. Preheat the oven to 350°.
2. Make the batter: Grease the bottom and sides of a round or 13×9-inch baking pan with 1 tsp. unsalted butter. In a large bowl, mix together the flour and next eight ingredients. Set aside.
3. In the bowl of an electric mixer fitted with the whisk attachment, whip the vegetable oil and eggs together until smooth, 3-5 minutes. (Note: you can always substitute the same amount of melted and cooled unsalted butter for oil.) Remove the bowl from the mixer and stir in the carrots, nuts, pineapple and orange juice. Gently stir in the dry ingredients. Once flour is introduced to a batter, the less you stir it to get the ingredients blended, the tenderer the cake will be. Don't overwork that flour!
4. Bake the cake: Transfer the batter to the pan and bake, 25-30 minutes or until toothpick inserted in the center of the cake comes out clean. This cake should also start to come away from the sides of the pan if it's cooked. After a few minutes cooling, remove from the cake pan and transfer to a serving platter.
RELATED: Alex Guarnaschelli Blogs: Pickling 101
Classic Cream Cheese Frosting
8 oz. cream cheese, room temperature
4 oz. unsalted butter, room temperature
1 tsp. red wine vinegar
2 tsp. vanilla extract
2 cups powdered sugar, sifted
Make the frosting: In a bowl, electric mixer or food processor, beat the cream cheese, butter, vinegar and vanilla at medium speed until smooth. Decrease the speed of the mixer and slowly add the powdered sugar. Do not overbeat. Spread over top and sides of cake.
Fresh Fruit Glaze
1 cup fresh pineapple, peeled and cut into small cubes
¼ cup powdered sugar
Juice from ½ lemon
½ cup orange marmalade
Make the sauce: In a medium sauté pan, gently warm and slightly soften the pineapple over medium heat for -3 minutes. Add the sugar, lemon juice and marmalade and stir to blend. Cook over medium heat until the sugar has dissolved and the sauce turns into more of a loose glaze, 3-5 minutes. Pour immediately over the cake. Note: This glaze can be made in advance and poured over the cake, warm, just before eating. It can also be poured in advance and cooled on top of the cake.