Gisele Bündchen and Tom Brady's Personal Chef Reveals Their Health-Conscious Vacation Diet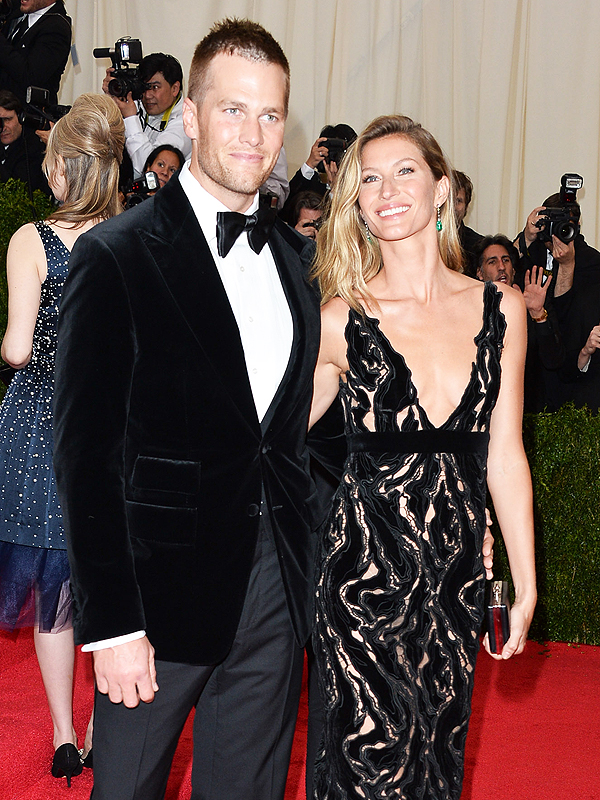 Tom Brady and Gisele Bündchen's strict diet continues even when the couple is on vacation.

The health-conscious pair famously adhere to a controlled meal plan that consists of 80 percent vegetables and whole grains, and 20 percent lean means, according to their personal chef Allen Campbell.
RELATED: See How Gisele Bündchen Tones Her Enviable Abs!
So, when the NFL quarterback and supermodel are relaxing at their home in Costa Rica, they rely on local raw food chef and holistic nutritionist Joanne Gerrard Young to prepare their meals.
"They don't always do raw, but since it's so easy to do in Costa Rica, we do a 80/20 raw diet, with big colorful salads and lots of fresh veggies," Young, who has cooked for the couple for the past five years, told Well+Good. "G likes to eat vegetarian sometimes, so we'll do a grain separate from the protein, and she's totally into juice cleanses, so she'll do about one per year."
RELATED: Tom Brady Reveals More About His Super-Strict Diet: I've 'Never Had Any Coffee or Anything Like That'
That includes sticking to their staples, like eating lots of vegetables and forgoing sweets. "They didn't want to do desserts anymore, for healthy eating purposes, but I shared all of my raw vegan desserts with them and they love them and have them all the time," said the Canada-born chef and founder of The Healing Cuisine. 
When the couple is in Costa Rica (due to his football schedule, Brady makes the trip about once a year while Bündchen visits regularly), they eat their biggest meal at lunch and then a smaller meal for dinner.
RELATED: Bikini-Clad Gisele Bündchen Blows Out Candles on Her Tropical Birthday Cake
"Eating Joanne's healing food reminds me of our connection to our beautiful planet, the supermodel has said. "Every meal a reflection of love and vitality, is better than the one before."
For a sampling of Young's healthy dishes like swiss chard summer rolls with spicy almond sauce, pineapple cucumber gazpacho and coconut mango cream pie, see the recipes below.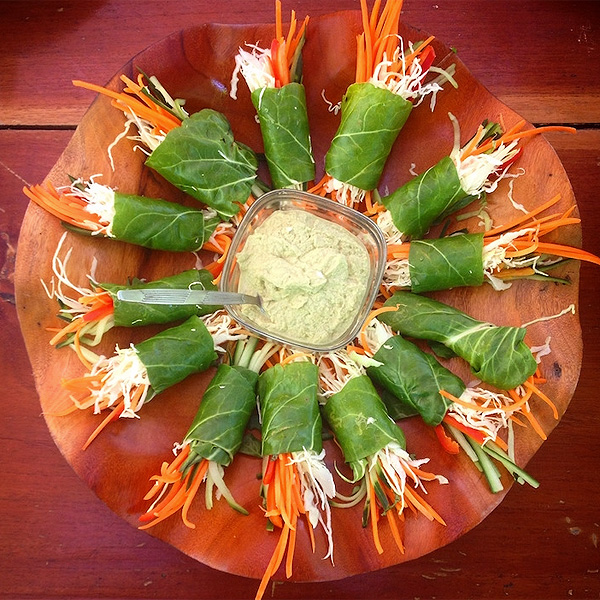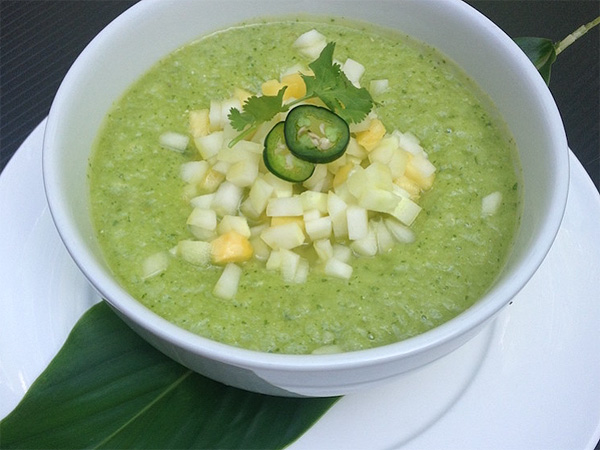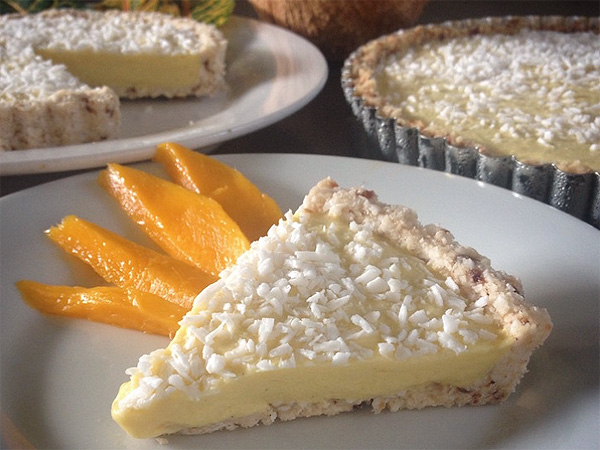 Courtesy Joanne Gerrard Young
Coconut Mango Cream Pie
Crust:
1 cup shredded coconut
½ cup macadamia nuts (soaked, rinsed and drained)
½ cup pitted dates (soaked 10 minutes and then chopped)
⅛ tsp. sea salt
Use a food processor to break down macadamia nuts. Add shredded coconut and salt and pulse a few times to begin combining, then add dates. Continue pulsing until a fine meal consistency is reached.
1. Scoop out crust mixture in a 9-inch spring-form pan (if you don't have a spring-form pan, use a pie plate lined with saran wrap). Press the nut mixture firmly into the pan, making sure that the edges are well packed and that the base is relatively even throughout. Set in refrigerator to chill.
Coconut Cream Filling:
1 young coconut (drink the water and scrape out the meat) or 1 cup of natural coconut yogurt
1 cup chopped fresh mango (reserve remaining mango to slice as garnish)
¼ cup coconut sugar or natural sweetening syrup of choice
⅛ cup virgin coconut oil
½ tsp fresh vanilla bean
A squeeze of lime
2 tbsp. soy lecithin powder
1. Blend all filling ingredients except soy lecithin in a high powered blender until smooth. Once combined, gradually add soy lecithin. Top crust with filling and chill for 1 to 2 hours. Top with shredded coconut and garnish with sliced mango.
–Michelle Ward Trainor