5 Ways to Make Your Next Party Bigger, Fatter and Greeker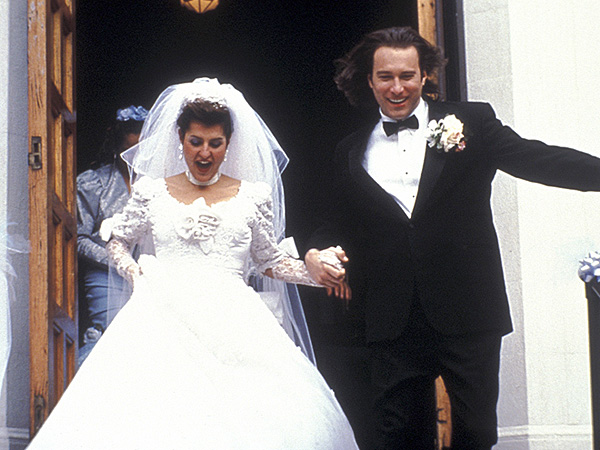 IFC Films/Everett
Celebrity wedding planner Sofia Crokos grew up in a "very intense" Greek family, so she's well-acquainted with big, fat Greek celebrations.
"The cooking part, the dressing of the table part, the setting up and planning it all — it was sort of instilled in me from a young age," Crokos tells PEOPLE. "I hate to say this, but we were making love to the food. We were so intensely involved. There was like 20 bosses in the kitchen versus one — that's very Greek."
RELATED: Make Michael Psilakis' Greek Tzatziki
After working in fashion for several years, Crokos returned to her passion: executing weddings — for stars like Robert Downey Jr. and Marc Anthony — parties and gatherings that incorporated the vitality of Greek celebrations. (She eagerly awaits the premiere of My Big Fat Greek Wedding 2, on March 25th.)
"Growing up, even when we were not hungry, food was always pushed our way," she says. "Someone will say, 'What do you mean you don't eat meat? Why don't you try it?' My sister is vegetarian, and even my cousins are like, 'Ok, I just made it with chicken stock.'"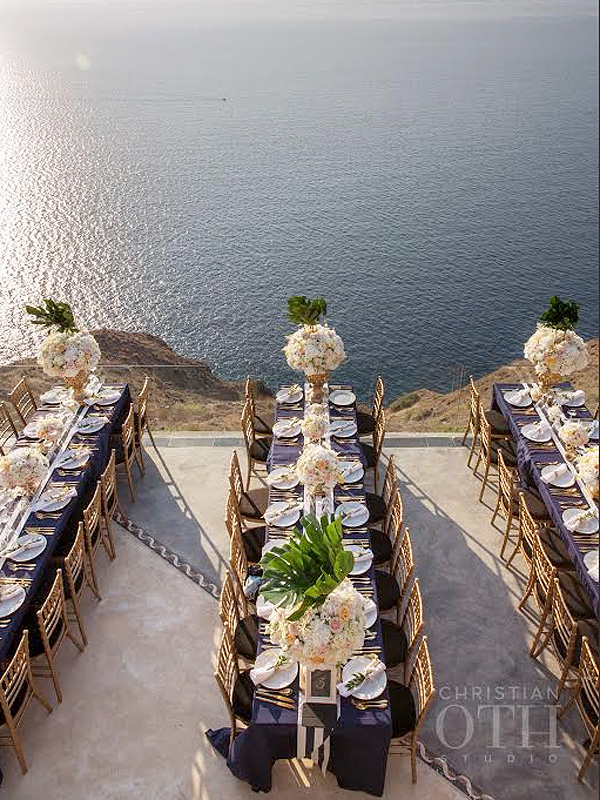 Christian Oth
Crokos shares five tips for making your wedding — or party! no pressure! — a little Greeker and a little fatter.
1. First and foremost: Go all out with the Greek food.
"From the preparation to gathering around the table to eat, food is a huge part of the Greek culture. Start off your meal with some classic nibbles, including stuffed grape leaves, olives, olive oil, and dips — such as tzatziki, tarama, and melitzanosalata (roasted eggplant dip). Include delicious and traditional Greek delicacies for the main course such as grilled fresh fish and horta (collard greens) or roasted lamb with lemon oregano potatoes. And, of course, don't forget to conclude the meal with some sweet baklava and Mastiha ice cream!"
RELATED: See Jamie Chung and Bryan Greenberg's Stunning Floral Wedding Cake
"If you're planning a wedding, individualize the experience by incorporating customary dishes and recipes from the Greek island that the bride and groom's families are from. (Example: if the bride's family is from Santorini, make sure to serve fava and tomatokeftedes, which are tomato balls). Also, keep in mind that many Greek foods have ancient significance in weddings — such as koufetta (Jordan almonds), which symbolize health and wealth; honey, which symbolizes sweetness and the endurance of a marriage; and rosemary, which symbolizes fidelity, love and abiding friendship — so make sure to include these, too!"
2. Crank some traditional music.
"Walk down the aisle or let guests mingle at cocktail hour to the beautiful melodies of the Greek bouzouki. Later in the night, turn up the volume and get the dancing started with some classic Greek tunes, including the infamous Kalamatianos or 'Zorbas dance.' Before you know it, your guests will have their hands in the air, shouting out 'Opa!'"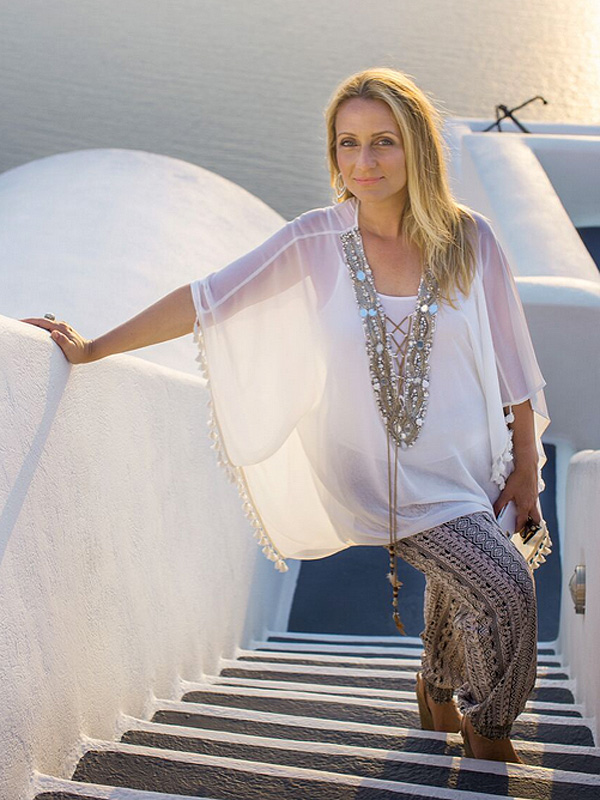 Christian Oth
3. Incorporate classic Greek symbols in your design.
"Olive branches, wild flowers and herbs are simple and beautiful ways to add fresh and natural decorative elements. Also, incorporate gorgeous flowing and draped table linens in white, neutrals and blue tones to symbolize the Aegean Sea."
4. Offer Greek wines and liquors to add oomph to the festivities.
"I love the wines from Santorini. Ouzo is another aperitif. There's also this amazing liquor called mastiha from a tree root, which is super yummy and fragrant."
RELATED: Nia Vardalos and John Corbett Are All Giggles at My Big Fat Greek Wedding 2 Premiere
5. Remember: It's okay to be showy — and have fun with the prep.
"We're very showy. We like to feel like this is going to be something that the cousins of the cousins and the grandmothers are going to be talking about it. Making sure everything is in its place is obviously super important.
Make sure to have lots of fun with the prepping — especially the cooking. I hate to say this, but make love to the food. Display the food beautifully."
RELATED: How to Eat Healthy at Weddings
Prepare Crokos' show-stopping Greek shrimp dish below.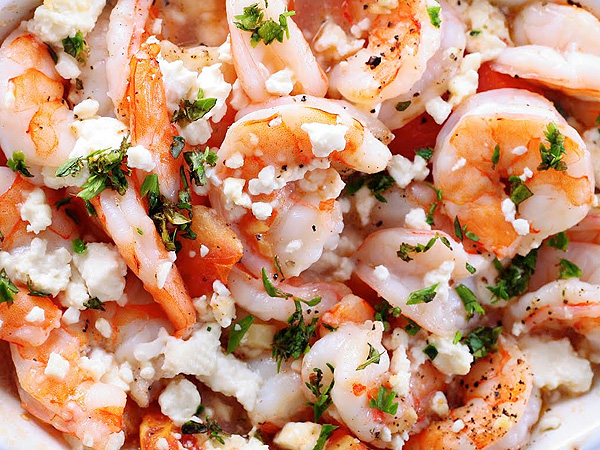 Sofia Krokos
Shrimp with Tomatoes & Greek Feta
Ingredients:
1/2 cup extra-virgin olive oil
4 scallions, finely chopped
1 green bell pepper, seeded and finely chopped
1 small fresh red chile, seeded and finely chopped
1 tbsp. finely chopped
fresh oregano
1/2 cup finely chopped fresh parsley
Freshly ground black pepper
1 1/2 lbs. medium shrimp
4 plum tomatoes, peeled,
 seeded, and chopped
1/2 lb. feta, crumbled
3 tbsp. milk
Directions:
1.    Heat oil in a large skillet over medium heat.
2.    Add scallions and cook, stirring, until translucent, about 5 minutes.
3.    Add bell peppers, chiles, oregano, and parsley.
4.    Season with pepper and cook, stirring, until bell peppers are soft, about 5 minutes more.
5.    Reduce heat to medium-low.
6.    Add shrimp and cook, stirring occasionally, for 30 minutes.
7.    Stir in tomatoes and cook until they release their juices, about 5 minutes.
8.    Add feta and milk and cook 20 minutes more.
9.    Serve warm, over rice if desired.
—Maria Yagoda, @mariayagoda