This Tex-Mex Fast Food Chain Was Just Named the Best Mexican Restaurant in America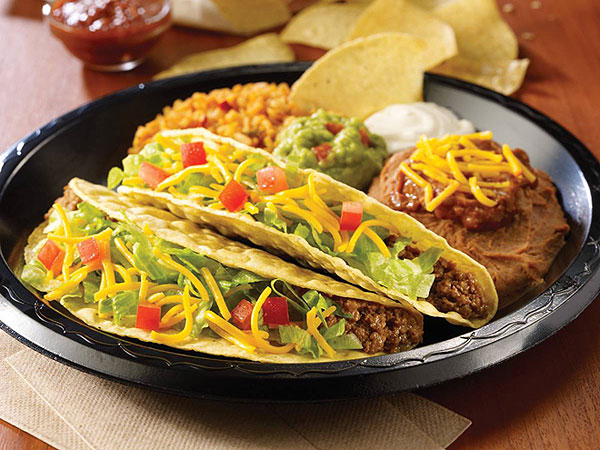 Taco Bueno
You wouldn't think the best Mexican food in America would be found at a fast-food restaurant, but the people have spoken — and they beg to differ.
According to Market Force Information's annual quick service restaurant study, Taco Bueno is Americans' favorite Mexican chain restaurant. Taco Bueno beat out Chipotle, Qdoba — which tied for first last year — and other national taco establishments such as Taco Bell and Del Taco.
RELATED: PEOPLE Staffers Tried Everything on Taco Bell's New $1 Breakfast Menu
If you haven't heard of Taco Bueno, you're not alone. The Texas-based chain is only in seven states — Texas, Oklahoma, Kansas, Colorado, Louisiana, Missouri and Arkansas — and has only 175 locations. To put things in perspective: Chipotle has over 1,500 locations.
RELATED: How To Get 86 Percent More Chipotle Burrito — for Free
While less of a national name brand, Taco Bueno, opened in 1967 in Abilene, Texas, has been a Tex-Mex pioneer for years, offering breakfast seven years before Taco Bell. They also have items on their menu called the "Chilida" — a chili- and queso-covered enchilada — and the "Wholotta Platter" — a plate of one taco, Muchado, rice, refried beans, a side of queso. If that doesn't scream pioneer, we don't know what does.
"We make our Tex-Mex fresh daily using real ingredients prepared by real cooks in real kitchens. Today's customers are demanding food that is authentic, that uses real ingredients and is cooked fresh," the restaurant's site reads. "We position the brand as a QSR [quick-service-restaurants] Plus concept – great food, prepared fresh in the restaurant yet still available through the drive-thru. Approximately two-thirds of our business is drive-thru."
RELATED: Does the Taco Cleanse Actually Work? One PEOPLE Staffer's Brave Journey
Excuse us as we plan our Taco Bueno-themed road trip.
—Maria Yagoda, @mariayagoda