Goldie Hawn Says She Keeps Her Diet Simple: 'I Don't Eat a Lot. I Think We Overeat'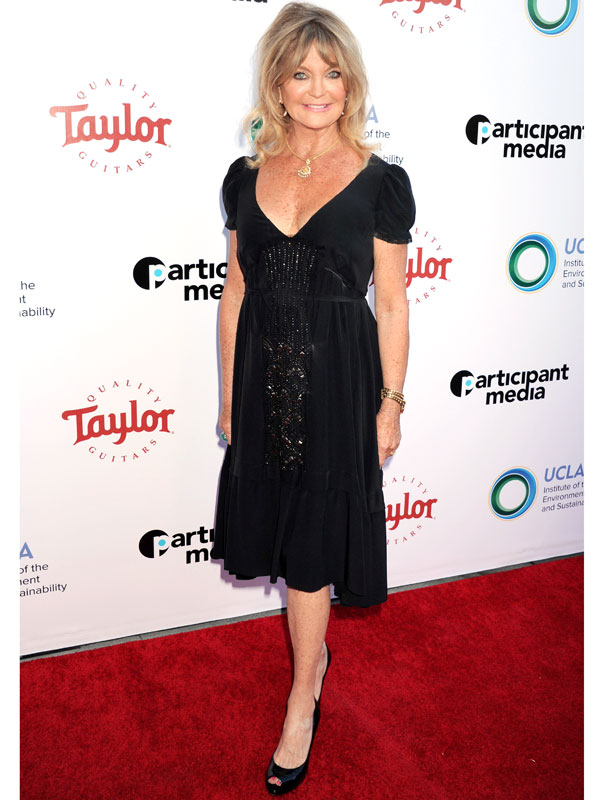 Broadimage/REX/Shutterstock
Goldie Hawn is a fan of going green—in all parts of her life.
At UCLA's environmental gala, called "The Champions of Our Planet's Future," Thursday night, the actress chatted on the red carpet about her diet and fitness routine—and her love of green juices.
"I don't eat a lot. I think we overeat," Hawn, 70, said of her food habits. [And] I drink my green juice every day!
RELATED: Kate Hudson: Dieting 'Puts So Much Pressure on People to Lose Weight Quickly'
Hawn says she prefers to keep her meals light and simple.
"I do a lot of juicing, I don't put a lot of food in my stomach and I don't mix my foods too much. So if I want to have like protein I'll just eat a bowl of lentils, I won't mix it with a bunch of stuff."
And she's just as viligilant about exercise, making sure that she does some form of it every day.
"I try to stay positive and be very very active. I walk every day and I run and do all kinds of that."
And even if she doesn't have time for a full workout, Hawn will squeeze in a quick interval session, which she actually prefers.
"If I don't have an hour, I'll do 15 minute intervals," Hawn says. "Actually, it's a very good thing to do. If you're taxing yourself too much in an hour, you're taxing a lot of things."
RELATED: Celeb Trainer Harley Pasternak: The Easiest Ways to Eat Your Veggies
Her healthy living habits are something she would like to pass on to her kids and grandkids, like daughter Kate Hudson and her two sons, but Hawn is realistic about how much advice actually sticks.
"You can't pass anything on to your children," Hawn says. "The only thing you can do is be an example, a living example. No one, children don't listen to the words, ever! They listen to what they see and what you do. That's the key."
"Do what I do, what I say I know is going in one ear and out the other!"
—Julie Mazziotta, @julietmazz