We Tried It: Rachel McAdams' High-Intensity Circuit Training Class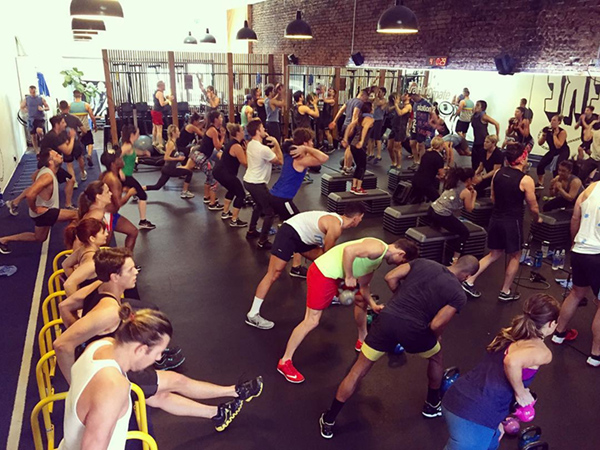 Instagram
What Is It: Training Mate is a HIIT circuit training class founded by Luke Milton, a celebrity trainer and former captain of the Australian Rugby team. Fans of the class include Freida Pinto, Jesse Metcalfe, Rachel McAdams, Tyra Banks, Adrian Grenier and Busy Philipps.

Who Tried It: Gabrielle Olya, PEOPLE writer and reporter
Level of Difficulty: 8 (on a scale from 1 to 10). This is a high-intensity interval training class, and it is definitely intense. However, the moves are broken down by time, not by reps, so you can go at your own pace and use whatever weights you want to use. There were also modifications offered for nearly all of the moves to suit people of all fitness levels.
Any time I hear the phrase "high-intensity" I am immediately intimidated, but what made this class less daunting was the fact that each move was done for only one minute. You can do almost anything for 60 seconds! (Or at least that is what I continually told myself to get through the class.)
Training Mate offers three classes – upper body, lower body, and full body – and the class I took was a full body workout, which apparently is the most difficult of the three.
The class was split up into small groups of up to four people per station, and we rotated through nine stations for a minute each: frog jumps (basically a squat and a jump combined), speed burpees, Bosu burpees, rowing, weighted punches, knee ups, crab walks (walking back and forth in a squat while holding a kettlebell), cycling and chin ups.
After the nine minutes is up, there is a minute of rest, and then we went through the nine stations plus one-minute rest two more times for a 30-minute workout.
After I made it through I was relieved! But then I found out there was still ab work to be done. We made our way out to the outdoor patio (always a plus) for a series of crunches and planks, and then the workout was really over!
I took a class taught by Milton, who was extremely encouraging to me and the other clients the whole time – an essential part of his workout philosophy.
"I wanted to bring a sense of camaraderie into the fitness industry," he explains. "Everyone high fives, everyone makes jokes. It's a very fun, inclusive atmosphere. There's no intimidation here. We really want to make sure that we're the best part of everyone's day, and we can do that still with a focus on getting physical results."
Those physical results are achieved through a focus on major muscle groups and cardiovascular health.
"What makes us so different from everyone else is we really tackle major muscle groups in a very specifically designed program," says Milton. "We're burning excess calories as a result of being high intensity."
And Milton prides himself on constantly coming up with new programs for all of his "mates."
"We've never done the same session here twice," he says. "We pride ourselves on being very creative with our exercises to make sure no one's getting bored in here."
I definitely wasn't bored during my workout – just really, really sweaty.
The Verdict: Yes this class is difficult, but I was surprised by how quickly it went by. The atmosphere was kept light and fun, which definitely helped me get through the more challenging moves (especially during round three when I did not know if I had another burpee in me). And the class is definitely a good workout – I was still feeling sore two days later!