This Spiked Lemonade Sweet Tea Recipe Has Us Dreaming of Summer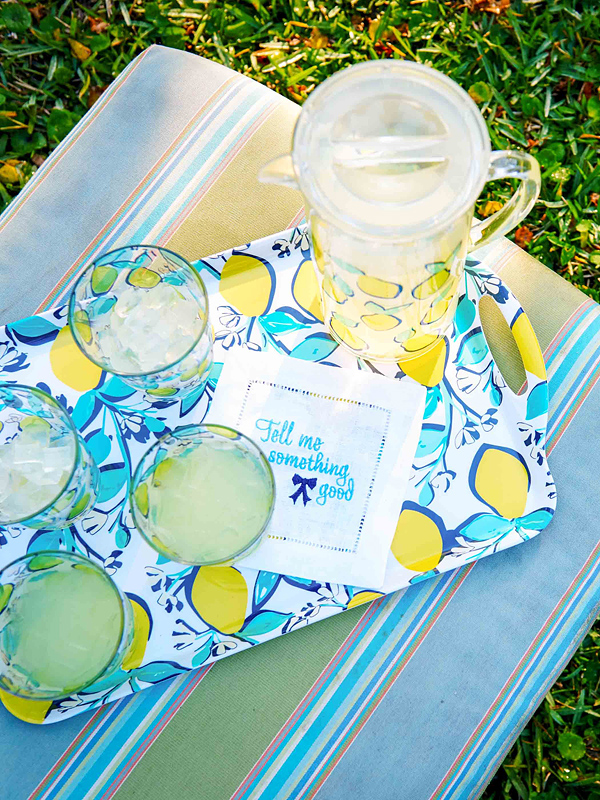 Draper James
It may be spring but this unpredictable weather has us dreaming of summer, when sunny days are pretty much a guarantee and we can confidently step outside without our winter coats.
To prep ourselves for bathing suit season, we're skipping the gym in favor of sipping a drink: spiked lemonade sweet tea. Sophisticated and refreshing, it's the kind of beverage that puts you in a warmer, happier place, no matter what the temperature is outside.
We've got an adults-only recipe that's easy to make and sure to become your go-to drink well into September. If you want to add an extra bit of sunshine, serve it to your guests in Draper James' (yes, Reese Witherspoon's brand!) festive lemon-print pitcher and tumbler set and matching citrus-print tray. And don't forget to garnish with lemon or pineapple slices for an Insta-worthy finish!
Spiked Lemonade Sweet Tea
3 cups water
2 large tea bags (family size)
1 cup fresh mint leaves (loosely packed)
1/2 cup sugar
4 cups cold water
1/2 can of frozen lemonade concentrate, thawed (about 12 oz.)
1 cup bourbon (or spiced dark rum)
Pineapple and lemon slices (for garnish)
1. Bring 3 cups water to a boil. Once it begins to bubble, remove from heat and add the tea bags and fresh mint, then cover. Steep for 10 minutes.
2. After the tea has brewed, remove the tea bags and mint. Stir in sugar until it dissolves.
3. Pour the sugared tea into a large container, add in the 4 cups cold water and lemonade concentrate.
4. Stir in bourbon or spiced dark rum, then pour tea into a pitcher or glasses filled with ice. Garnish with pineapple or lemon.
Buy It! Draper James Lemon Tumbler Set, $28; Printed Lemon Pitcher, $22; Lemon Melamine Tray, $28; draperjames.com
— Johnni Macke