WATCH: LeBron James Went Undercover as a Pizza Place Employee … And No One Noticed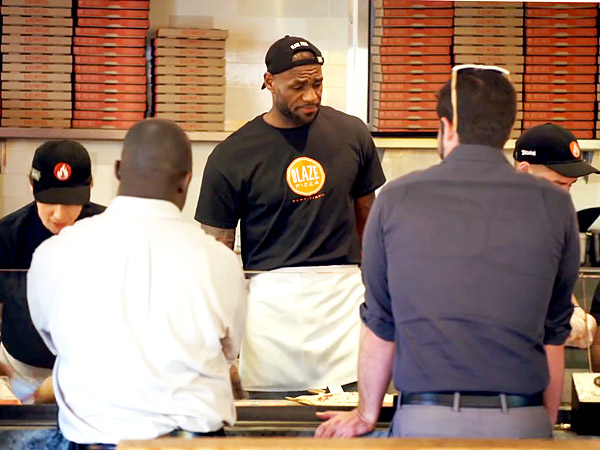 Blaze Pizza
LeBron James may be one of the most famous faces in sports, but there are times when even he is unrecognizable.

The NBA great recently went undercover as Ron, the newest employee at Blaze Pizza's Pasadena, California location, and the reaction wasn't quite as we'd expect. (James is an investor in the pizza chain—which also counts Patrick Schwarzenegger as an owner of an L.A. location.)
While customers seemed to love the friendly new guy, they didn't seem to realize (or let on that they realized) they were actually interacting with the basketball star.
RELATED: LeBron James Didn't Eat Any Carbs, Sugar or Dairy on His Strict 67-Day Diet
In the hilarious clip, 6'8 Ron towers over his coworkers as he takes lunchtime orders. "[It's my] first day on the job, I'm learning. I'm shadowing, a really tall shadow," he tells customers, showcasing the scene-stealing, comic chops he displayed in Trainwreck.
As Ron lists sauce options off to another patron, he says, "I love spicy sauce, but you might not be a spicy guy." When the customer, named Fernando, goes with the recommendation, Ron quips, "With a name like Fernando, you got to be spicy!"
During his shift, Ron seemed at ease with the staff and patrons, and playfully plays along with his new role.
RELATED: Dwyane Wade Is Truly Passionate About Making Wine: It's 'Not Because It's Cool or It's a Check'
"You look very familiar, very familiar," one woman said to Ron, after he complimented her glasses.
"He looks like Dwyane [Wade]!" said another female customer. "I get that a lot, I get that a lot," Ron responded. "I've heard of that guy too."
He even asks a patron, who has a giant basketball on his T-shirt, "What's that on your chest? Is that a golf ball?"
RELATED: LeBron James Makes His 'Post-Training Cake' With a Secret Ingredient (and It's Not What You'd Expect)
As Ron leaves for his "next job," he is seems to be finally found out as he stops to pose for a selfie with a group of patrons.
We have a feeling this isn't the last we've seen of Ron. The #MeetRon implies that he might just show up for another shift.
–Michelle Ward Trainor