Chrissy Teigen Is Obsessed with This 'Absurd' Carrot Cake, and We've Got the Recipe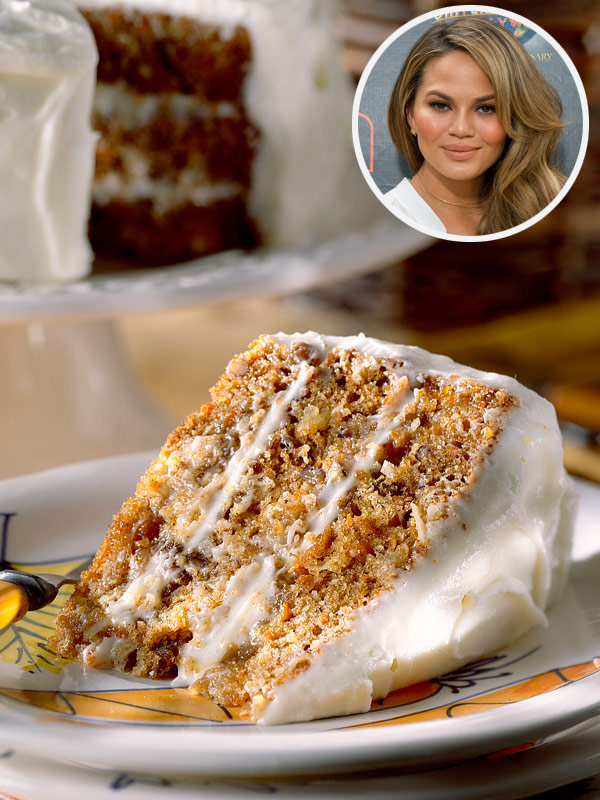 Tina Cornett/MyRecipes; Inset: Getty
When Chrissy Teigen gives you a food recommendation, you take it.

On Tuesday night, the model-turned-cookbook author took to Instagram to show off a towering confection — a delightful 3-layered carrot cake which she calls "so, so good," "crazy sticky moist," "full of flavor," and, to sum up, "absurd."
While Teigen is known for her culinary prowess, she admits she's "not a great baker and never really had a sweet tooth," which makes her glowing review that much more note-worthy.
RELATED: Get Chrissy Teigen's Sriracha Caesar Salad Recipe from Her New Book Cravings
The cake, which is a recipe from Southern Living, stands out from others because in addition to the obvious shredded carrots, the cake batter is bolstered with crushed pineapple and shredded coconut. Once baked, each layer topped with a caramelized buttermilk glaze and frosted with the classic cream cheese icing.
Check out Chrissy's version of the cake (with a touch of NSFW language), then make it yourself with the full recipe below.
RELATED: Pregnant Chrissy Teigen Still Works Out 5 Days a Week
Southern Living's "Best Carrot Cake"
Cake:
2 cups all-purpose flour
2 tsp. baking soda
½ tsp. salt
2 tsp. ground cinnamon
3 large eggs
2 cups sugar
¾ cup vegetable oil
¾ cup buttermilk
2 tsp. vanilla extract
2 cups grated carrot
1 (8-oz.) can crushed pineapple, drained
1 (3 ½-oz.) can flaked coconut
1 cup chopped pecans or walnuts
Buttermilk Glaze:
1 cup sugar
1 ½ teaspoons baking soda
½ cup buttermilk
½ cup butter or margarine
1 tbsp. light corn syrup
1 tsp. vanilla extract
Cream Cheese Frosting:
¾ cup butter or margarine, softened
1 (8-oz.) package cream cheese, softened
1 (3-oz.) package cream cheese, softened
3 cups sifted powdered sugar
1 ½ tsp. vanilla extract
1. Preheat oven to 350°F and line 3 (9-inch) round cakepans with wax paper; lightly grease and flour wax paper. Set pans aside.
2. Stir together first 4 ingredients.
3. Beat eggs and next 4 ingredients at medium speed with an electric mixer until smooth. Add flour mixture, beating at low speed until blended. Fold in carrot and next 3 ingredients. Pour batter into prepared cake pans and bake at 350° for 25 to 30 minutes or until a wooden pick inserted in center comes out clean.
4. Make the glaze: Bring all ingredients to a boil in a large Dutch oven over medium-high heat. Boil, stirring often, 4 minutes. Remove from heat, and stir in vanilla.
5. Make the frosting: Beat butter and cream cheese at medium speed with an electric mixer until creamy. Add powdered sugar and vanilla; beat until smooth.
6. Remove cakes from the oven and drizzle buttermilk glaze evenly over layers; cool in pans on wire racks 15 minutes. Remove from pans, and cool completely on wire racks. Spread frosting between layers and on top and sides of cake.
—Shay Spence, @chezspence