This Instagram Account Flawlessly Combines Your Love for Celebs and Sandwiches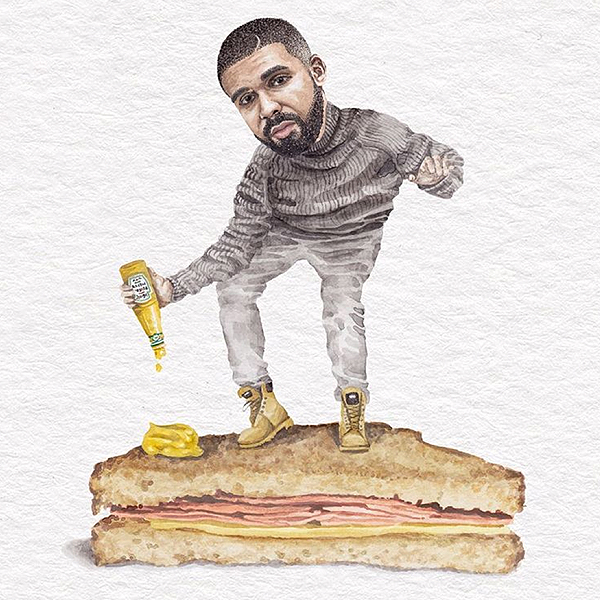 Jeff McCarthy
Do you regularly find yourself ravenously craving a sandwich at all hours of the day/night? Do you also catch yourself stalking Taylor Swift on Instagram while eating said sandwich?
If you enthusiastically answered yes to both questions, then you just hit the jackpot. Enter Celebs on Sandwiches, an Instagram account that combines both of the world's true loves: sandwiches and celebrities.
RELATED: This Meryl Streep Food Mashup Instagram Is the Best Thing You'll See All Day
When it came to its creation, founder Jeff McCarthy credited people's deep-rooted passion for food and pop culture as his decision to launch the account — tapping into food-themed viral realm, as we've seen in the past with the genius Meryl Streep and food mash-up Instagram account, Meryl Streep on Food.
"Our culture's fascination with celebrities is kind of crazy, so the idea of bringing some humor to it all just made sense," McCarthy, who launched the account in 2015, tells Mashable. The artist uses water colors to illustrate each celeb posing alongside a sandwich unique to the star, and even sells prints of each 'gram for $30 on his site.
Keep scrolling to see a slew of McCarthy's creations, which features a pop star and a presidential candidate.
Ariana Grande
RELATED: Mindy Kaling and Umami Burger Team Up to Make 'The Mindy Burger'
Wiz Khalifa
Mindy Kaling
Bernie Sanders
RELATED: Drake Lyrics on Cake Is Our New Favorite Thing on the Internet
Taylor Swift
Aziz Ansari
Miley Cyrus
RELATED: Jennifer Lawrence Invented This Insane Spaghetti-Chili-Pizza Sandwich…So We Made It Ourselves, Naturally
—Grace Gavilanes