Top Chef Winner Jeremy Ford: My Daughter 'Wishes I Would Have Come in Second Place'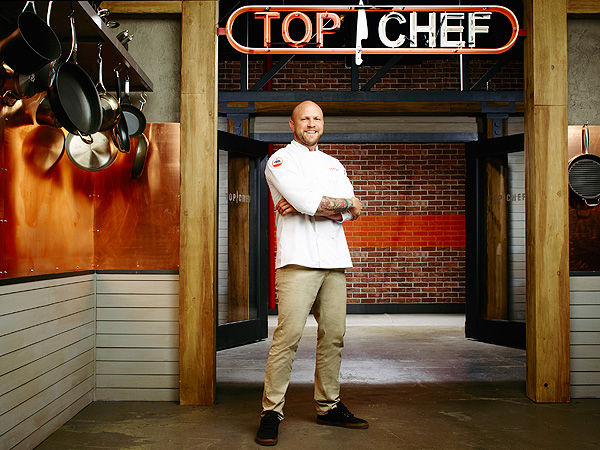 Andrew Eccles/Bravo
Many things have changed for Jeremy Ford since he won season 13 of Bravo's Top Chef last month.

"A year ago, no one in Miami knew who I was," Ford tells PEOPLE during a party honoring his win at the Miami Beach EDITION hotel.
"Now I am invited all over the world, and at least 30 to 40 people a day come to see me while I am working," says the chef de cuisine at Matador Room. "They are from places like New York and Canada and interrupt their bachelorette parties to introduce themselves. It is amazing that people are excited to meet me."
RELATED: Top Chef Champ Jeremy Ford Dishes on His Win: 'It's the Most Rewarding Feeling You'd Ever Imagine'
Ford, who won three quick fires and three elimination challenges early in the Top Chef competition, says nothing in his life really changed until after several episodes had aired. Then the simmer reached a boil.
"Once I had won multiple challenges I noticed the change," he tells PEOPLE. "It went from no one giving a sh— to, all of a sudden, the bigger players came out."
RELATED: Tom Colicchio Says This Is the One Thing You Must Do to Be a Better Cook
Things have been so hectic in the weeks since Ford was crowned the winner that his daughter Madelynn, 9, has expressed displeasure seeing her dad leave town for events, dinners and other celebrity chef obligations.
"Now that I have to travel, I don't get to spend as much time with Madelynn as I would like," says the single father. "I can't say no to things, and she doesn't like it. She said she wishes I would have come in second place."
Even though Ford must balance the requirements of fatherhood and being a professional chef, he admits that winning "has enriched his life" in many ways.
RELATED: Padma Lakshmi Shares the One Recipe That Helped Mend Her Broken Heart
"I now have the opportunity to learn something new every day. The show gave me some fire, and I have more to get done. I am learning as I go, and I love it," he says.
Although he is excited to build his brand, form a company for events, cook dinners and introduce more new people to his cooking (especially with his fish dishes),  he likes to come home to Miami.
"I'm definitely in demand right now," he says of his busy schedule. "And it does gets tiring. Some days after I take my daughter to school, I just want to go home and sleep until noon to catch up. But there isn't time."
RELATED: Padma Lakshmi on Losing the Top Chef Weight: 'I'm Working Out Every Single Day'
The chef is excited about an upcoming summer vacation to London he has planned with his daughter. "While I'm thinking of all the great things we can do, Madelynn puts it all in perspective when she makes it clear that we had better visit a water park!"
—Linda Marx