EXCLUSIVE: A Cake as Tall as the Bride! See Shawn Johnson's 'Nearly Naked' 7-Layer Wedding Cake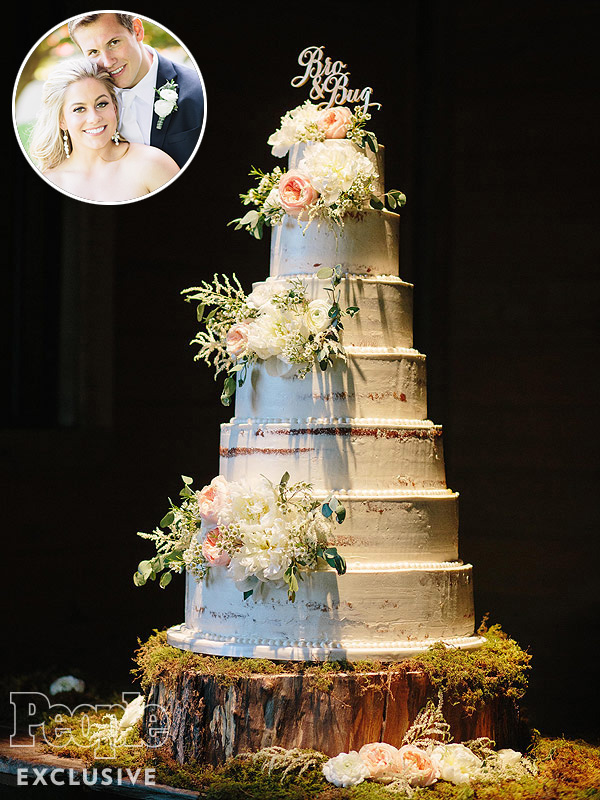 Lindsey Grace Whiddon/Wild Native
She may be little, but Shawn Johnson East knows how to make a big impression on her wedding day, right down to the Olympic gold-medal gymnast's seven-layer cake. At nearly 5 feet (including base and topper), the confection was as tall as the bride.

With 350 guests to serve at the April 16th affair, held outdoors at a private farm in Tennessee, a sizable cake was a necessity—but Johnson (who wore an Olia Zavozina mermaid gown) and her new husband, Oakland Raider long snapper Andrew East, made sure it was also a perfect match to their personalities.
RELATED: See the Photos of the Ultimate Celebrity Wedding Cakes 
"We did four different flavors—crazy flavors!" Johnson tells PEOPLE exclusively. "One is Samoa like the Girl Scout cookies, one is chocolate chip, one is marble with Nutella, one is vanilla with strawberries. So it was really fun and it's just like Andrew and me—we have a hard time making up our minds cause we like everything!"
RELATED: See Sofia Vergara and Joe Manganiello's Gorgeous Five-Tier, Floral Wedding Cake
The towering confection, created by Nashville's Dulce Desserts, was designed to fit with the day's "rustic, elegant" theme says the couple's wedding planner, Sara Fried of Fete Nashville.
"This was a nearly naked cake, so you could see through a little bit to the cake inside," Fried says.
RELATED: EXCLUSIVE: All the Details on Rachael Ray's 'Spectacular' Wedding Renewal Cake (PHOTOS)
The light frosting treatment narrowed the couple's choices of flavors—no red velvet peeking through!—but it matched the farmhouse tables and earthy greenery decorating the barn where the reception was held. In decorating the cake, "we kept it simple," says Fried, pointing to the subdued white peonies and ivory roses adorning the side. "The greenery mimicked the head table's decorations and the flowers were the same as in her bouquet."
Fried added a last personal touch with her gift to the couple, a glittering gold cake topper spelling out "Bro" and "Bug," their pet names for each other.
—Eileen Finan