Hungry Girl: Make My Healthy and Delicious Mushroom Benedict for Mother's Day Brunch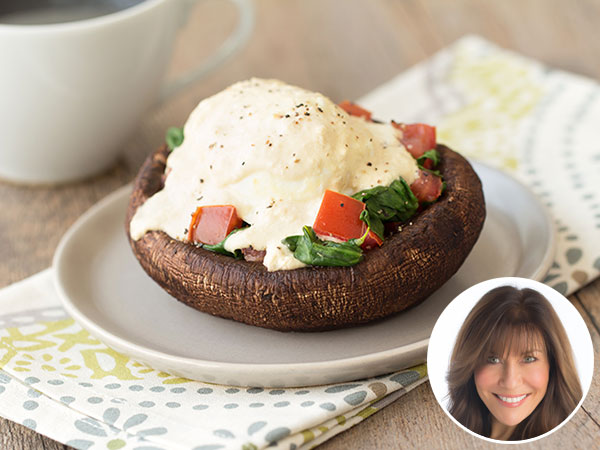 Courtesy Lisa Lillien
Lisa Lillien is the author of the popular Hungry Girl website and email newsletter, featuring smart, funny advice on guilt-free eating. She is also the author of eleven books, six of which debuted at number one on the New York Times Best Sellers list. Read her PEOPLE.com blog every Monday for slimmed-down celebrity recipes and more.

Instead of taking your mom out for a Mother's Day brunch, DIY with this healthy spin on a classic! For my take on eggs Benedict, I swap out the carb-y, English muffin bottom for a yummy portabella mushroom cap. And my light version of Hollandaise is made with Greek yogurt for less fat and more protein. The result is a meal so virtuous, you might want to have it every weekend. (Sorry, Mom, but you're gonna have to make it yourself the rest of the year.)
RELATED: Hungry Girl: Make My Fresh and Fruity Salsa for Cinco de Mayo
'Til next time… Chew the right thing!
Hungry Girl's Portabella Benedict
Serves: 1
1 large portabella mushroom cap (stem removed)
1 tbsp. fat-free plain Greek yogurt
1 tsp. Dijon mustard
1 tsp. light whipped butter or light buttery spread
1 drop lemon juice
1 cup spinach leaves
¼ cup chopped tomatoes
⅛ tsp. garlic powder
⅛ tsp. salt and black pepper
1 tsp. white vinegar
1 large egg
RELATED: Hungry Girl: How to Lighten Up a Peanut Butter & Jelly Sandwich
1. Preheat oven to 400°F. Spray a baking sheet with nonstick spray. Place mushroom cap on the baking sheet, rounded side down. Bake until slightly tender, about 8 minutes.
2. Meanwhile, make the sauce: In a small microwave-safe bowl, combine yogurt, mustard, butter, and lemon juice. Mix until uniform.
3. In a medium microwave-safe bowl, microwave spinach leaves for 45 seconds, or until wilted. Blot away excess moisture. Add tomatoes, garlic powder, salt, and pepper. Microwave for 30 seconds, or until hot. Remove sheet from oven. Blot away excess moisture from mushroom cap. Fill mushroom cap with spinach-tomato mixture.
4. Fill a medium pot with 2 inches of water. Add vinegar, and bring to a boil. Once boiling, lower temperature until a steady simmer is reached.Crack egg into a small shallow bowl. Give simmering water a stir, and gently add egg. Cook until egg white is mostly opaque, 3 – 5 minutes (3 for a runnier egg, 5 for a very firm one). Using a slotted spoon, carefully transfer egg to a layer of paper towels. Once excess water has been absorbed, transfer egg to the mushroom cap.
5. Microwave sauce until hot, about 20 seconds, and stir. (If you prefer a thinner sauce, add a bit of water.) Spoon over egg.
Prep time: 10 minutes
Cook time: 20 minutes
Nutritional information: Entire recipe: 152 calories, 7g total fat (2g sat fat), 533mg sodium, 11g carbs, 3g fiber, 5g sugars, 12g protein