We Turned Kendall Jenner's Grocery List Into a Chopped Challenge, and the Results Were…Interesting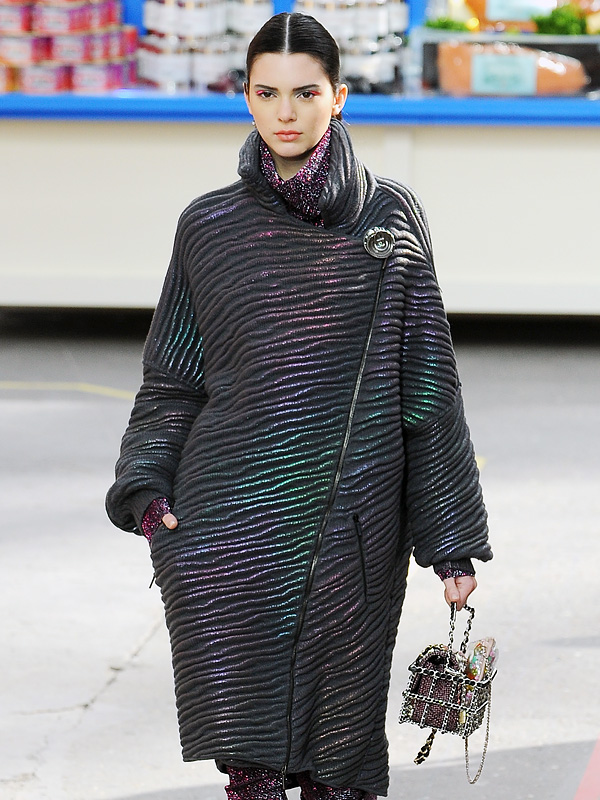 Francois Durand/Getty
What It Is: A Chopped-style cooking challenge based on Kendall Jenner's go-to grocery shopping list
Who Tried It: Shay Spence, PEOPLE Associate Food & Lifestyle Editor
As a culinary school graduate who often works late hours, I pride myself in my ability to whip up an above-average meal on short notice with the limited ingredients I have on hand.

As a food editor for an entertainment publication, I also consider myself a foremost scholar on the dietary habits of the Kardashians. These are two facets of my personality that I fully embrace, but have yet to combine into one hyper-specific superpower. Until now.
RELATED: (Snack) Break the Internet: The Definitive Guide to Kim Kardashian West's 'Favorite' Foods
Last Thursday, the reality family's resident supermodel and gift-giving etiquette expert Kendall Jenner posted an article on her blog titled, "The Groceries I Always Grab." In it, she discusses her go-to grocery store purchases.
Cereal. Bread. Bottled water. Fruit. Milk.
That's it.
"I don't like to buy too much because I'm hardly ever home!," she explains. As I mentioned before, Jenner is a very, very famous supermodel, so she is busy.
Her reasoning behind each item includes: "I love to have fresh fruit so I can grab it and go," "Cereal and milk are musts for a quick breakfast," "Bread holds a special place in my heart," and "I need to be stocked up on bottled water!"
RELATED: Kourtney Kardashian Has a Crazy Way to Eat Peanut Butter Cups
Given my never-ending hunger for culinary creativity (and untreated addiction to the Food Network's Chopped), I set out on a very brave and important challenge: create a beautiful and delicious meal based exclusively on the ingredients in Jenner's kitchen.
Time starts now.
Okay, first let's talk cereal: Jenner doesn't mention her brands of preference, so I went with a combination of my favorite — Cinnamon Toast Crunch — and her little sister Kylie's favorite, Lucky Charms (marshmallows only, obvs).
For the bread, I got your standard pre-sliced white variety, an under-appreciated hero in my mind. For fruit, we've got a classic combo of bananas and strawberries.
RELATED: Dine and Dash! The L.A. Hot Spots Where You're Most Likely to Spot a Kardashian
My immediate instinct was French toast, because again, I watch a lot of Chopped and everyone on that show makes either French toast or bread pudding. Being that there are no eggs and no sugar in this basket, this was going to be tricky, but I persevered.
My instinct was that melting down the marshmallows in the milk would mimic the custard-y texture of the eggs and provide some much-needed sweetness. Turns out when you melt Lucky Charms, they just sort of disintegrate into a murky, oddly-fizzy green sludge. The more you know.
Not my most beautiful work, but we're getting somewhere. I popped them on a rack in a 250° oven to hang out while I finished the rest of my ingredients (a good French toast tip in general, if you learn nothing else from this piece).
Bananas and cinnamon sugar go together like Kris Jenner and a private jet full of caviar, so that's where I decided to go next. I pulsed the Cinnamon Toast Crunch in the food processor, tossed them with banana slices, and put them into a skillet that was crying out for some butter.
RELATED: Khloé Kardashian Reveals the Best Health Tips She's Received from Kourtney: No Soda, All Organic Food
At this point, all I had left were strawberries some delicious Fiji water (Jenner was specific in her requests). Into a pan they go, along with some more of that cinnamon cereal dust to sweeten it up.
Simmer, strain, and boom — you've got some strawberry-cinnamon syrup.
And now, the moment of truth.
Guyyyyyys, I tried! Don't be mean. The general office consensus was this: While not horrible, taste-wise, the dish was both texturally and visually offensive. And, considering the amount of junk in there, surprisingly bland.
Primary takeaways: 1) Salt, butter, and sugar are your friend, 2) Lucky Charms French Toast is going to be next year's hottest St. Patty's Day trend (you heard it here first), and 3) Don't take cooking inspiration from supermodel reality stars.
—Shay Spence, @chezspence