Ali Larter Makes This Dreamy Cake Recipe Every Mother's Day: 'It's Our Special Little Tradition'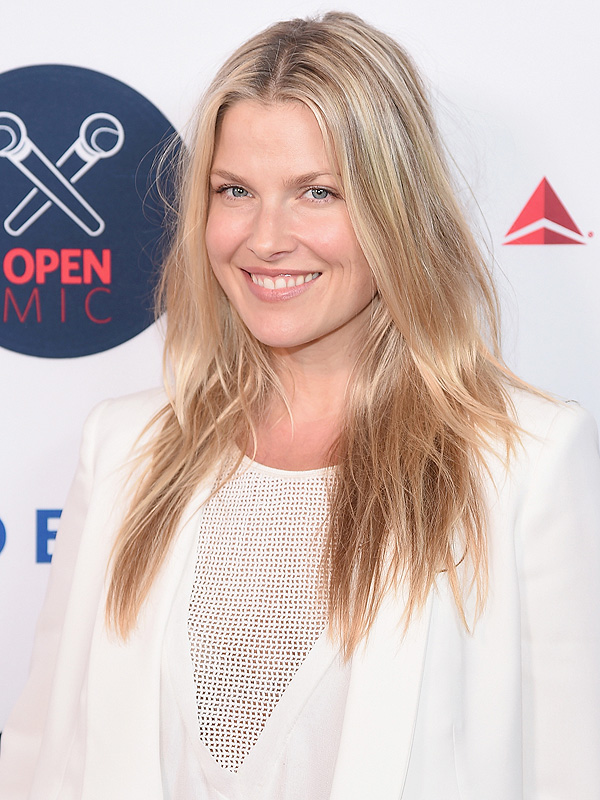 Michael Loccisano/Getty
For Ali Larter, Mother's Day is a day of tradition.

The author of Kitchen Revelry makes sure she carves out a little "me time" and gets in the kitchen.
"There are a few traditions I have that I do each year," the actress tells PEOPLE. "I spend about an hour by myself during the day, to really think about the year past and all that I have accomplished as a mother and our family as a whole. And, of course, I always cook and spend time with my family [husband, Hayes MacArthur and their two children, Theodore Hayes, 5,  and Vivienne Margaret, 15 months] relaxing and celebrating all our blessings."
RELATED: Ali Larter's Secret for Drinking More Water (Hint: Add Tons of Flavor)
That also includes honoring her mom. "When I spend Mother's day with my mom, I usually cook for her to show my appreciation for everything she has done for me," she says. "I always cook her and my dad's favorite recipe of mine, the carrot cake. It's our special little tradition and its something the whole family enjoys. It's so moist and tasty.
And the star foodie has her mom to thank inspiring her love of cooking.  "One recipe my mother and I have bonded over is her wonderful ratatouille," says Larter. "She taught me how to cook it when I was young and it has always been a special dish between the two of us. Cutting up the vegetables and blending them all together in a beautiful dish is one of our favorite ways of spending time together doing what we love; cooking!"
RELATED: You Asked, We Deliver: Ali Larter's Lemon-Lavender Cake Recipe
For Larter's favorite Mother's Day recipes see below.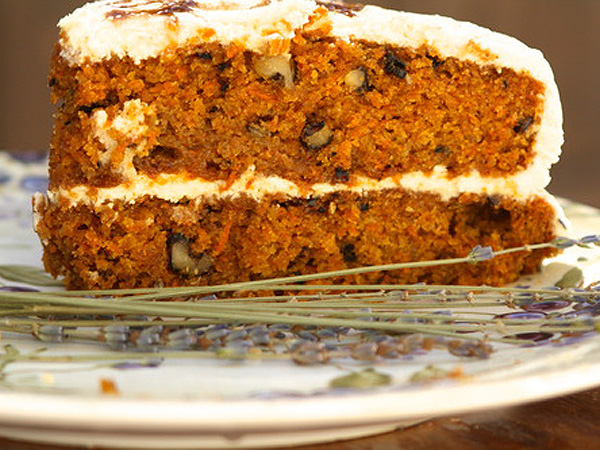 Courtesy Ali Larter
Ali Larter's Carrot Cake
Makes: 1
Cake:
1 cup white whole wheat flour
1 cup all purpose flour
2 tsp. baking powder
1 tsp baking soda
1 ½ tsp. flaked sea salt
1 tsp. cinnamon
1 tsp. ground ginger
Dash of nutmeg
1 cup brown sugar
1 cup white sugar
1 ¼ cups grapeseed oil
2 tsp. grated peeled ginger
4 eggs
3 cups finely grated peeled carrots
1 ½ cups chopped walnuts
Icing:
8 oz. mascarpone
5 oz. cream cheese
6 tbsp. softened unsalted butter
2 ½ cups powdered sugar
⅓ cup maple syrup
pinch flake sea salt
1. To make the cake, preheat oven to 350. Butter 2 9-inch cake pans, then lay parchment inside and butter and flour. In a medium-sized bowl, mix flours, baking powder, baking soda, salt, cinnamon, ground ginger, and nutmeg.
2. In a separate bowl, mix the sugars, oil, and ginger and whisk in the eggs one at a time. Add liquid mixture to flour mixture, and stir in carrots and walnuts. Divide batter and bake until toothpick comes out clean – 40 minutes. Let rest for ten minutes, then flip onto racks and let cakes sit until completely cool.
3. To make the icing, using a mixer beat mascarpone, cream cheese, and softened butter for about 3 minutes, until fluffy. Then beat in the powdered sugar, and once incorporated flavor with maple syrup and sea salt, mixing until color and texture achieve consistency. Ice top of one layer of cake with about ⅓ of icing mixture, add second layer, and cover entire cake with rest of icing – using about ⅓ on top, and the other ⅓ to cover sides. Decorate with walnuts if desired.
Prep time: 20 Minutes
Cook time: 50 Minutes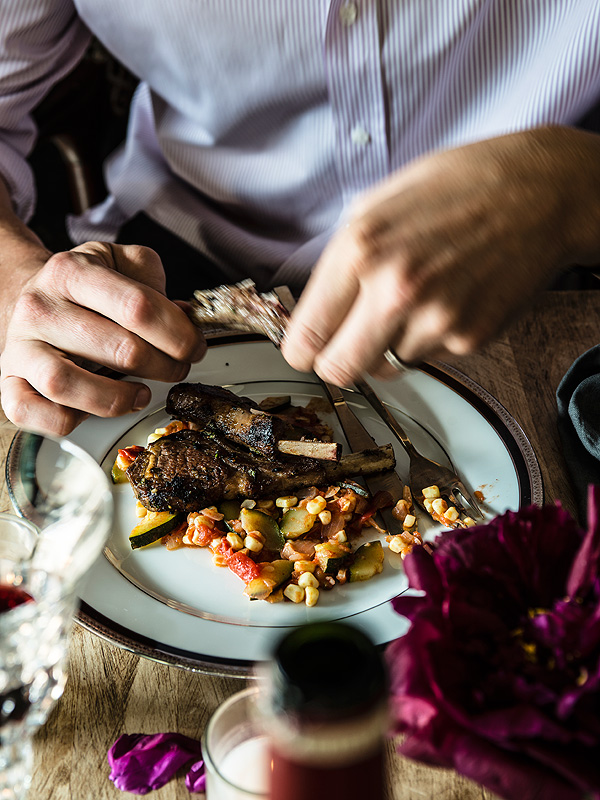 Courtesy Ali Larter
Ali Larter's Ratatouille with Parmagiano-Reggiano
Serves 12
9 cups roma tomatoes cut into 1-inch cubes (from about 18 tomatoes)
3 tbsp. butter
3 tbsp. extra-virgin olive oil
3 cups diced onion
6 cloves garlic, peeled and minced
3 cups corn (about 6 ears of fresh corn)
9 cups zucchini, cut into ¾ inch cubes (about 9 medium zucchini)
3 tsp. salt
1 ½ tsp. black pepper
3½ cups Parmagiano-Reggiano cheese, shredded
1. Roughly chop and deseed tomatoes, set aside.
2. Chop onions and saute on medium high heat in olive oil and butter for 5 minutes. Add garlic and continue to saute for an additional 2 minutes. Add tomatoes and simmer for 15 minutes to reduce. Add corn, zucchini, salt, and pepper. Turn the heat back up to medium for an additional 10 minutes. Turn off heat and stir in Parmigiano-Reggiano until melted, and serve.
–Michelle Ward Trainor