WATCH: Washington Post Columnist Literally Eats His Words—The Newsprint on Which He Wrote 'Trump Won't Win the Nomination'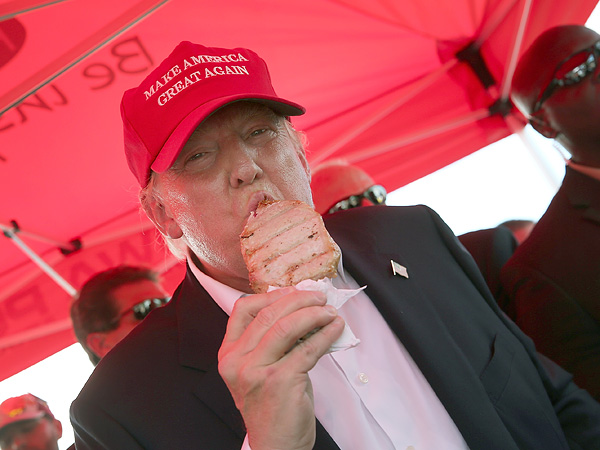 Win McNamee/Getty
Eating one's words never tasted this good.
On Thursday, Washington Post columnist Dana Milbank made good on his promise to eat all 18 inches of his Oct. 4 newspaper column that predicted Donald Trump would not win the GOP nomination for president.
Joined by Washington Post food critic Tom Sietsema, Milbank feasted on an eight-course, crowdsourced meal prepared by chef Victor Albisu of Washington D.C.'s Del Campo restaurant — but only after signing a waiver from the chef.
RELATED: Anthony Bourdain on What He'd Cook for Donald Trump: He 'Likes His Steak Well Done So I'd Serve Him Tartare in Large Quantities'
The candlelit lunch was streamed live on the Post's Facebook page, where viewers tuned in to watch Milbank consume the newsprint-based dishes and wash them down with assorted bottles of Trump Winery wine. A fourth bottle — of Pepto Bismol — was on hand just in case.
Here's a rundown of the courses, with commentary from the chef, the critic and the columnist.
1st course: traditional mixed ceviche de barrio, with the column pureed into the leche de tigre marinade. Milbank noted the "squid ink-like color of the dish, as well as the "very long finish," both courtesy of the raw paper. The newspaper strip garnish was "quite chewy," but the rest of the meal, inspired by the Hispanics Trump loves so much, was enjoyable, Milbank said.
 2nd course: chilaquiles served with avocado, a fried egg and buttermilk-soaked newspaper fried to mimic a tortilla. "This is inspired by all the Mexico rhetoric and the whole wall," Albisu said of Trump's plan to build a wall between Mexico and the U.S.. Unfortunately the buttermilk didn't help much. The newspaper "sort of wads up into a ball in your mouth," Milbank said, grimacing. "It reminds me of grade school spitwads," Sietsema added.
3rd course: spicy ground newspaper-and-pork dumplings, inspired by Trump's "China talk." "This is a dish that I think all Americans could and should eat," Milbank said. "The newspaper gives it a little body."
4th course: falafel with pickled newspaper, inspired by Trump's proposal to ban Muslims from entering the U.S. Despite the sophisticated flavors, there's just no breaking down that stubborn newsprint, according to Milbank.
5th course: The famous Trump Taco Bowl, featuring al pastor, guacamole and rice, all made with newspaper.
6th course (served in conjunction with the 5th course): lamb birria braised with newspaper and topped with grilled shredded newspaper. "This one is good," Milbank said, flashing a thumbs-up for the "hidden, well-delivered newspaper."
7th course: "overcooked" wagyu bavette steak with newspaper smoke and grilled article in the chimichurri sauce. Trump's longtime butler at his Mar-a-Lago estate once said the billionaire businessman likes his steak so well done that it would "rock on the plate." "This is a beautiful piece of meat that has been deliberately overcooked in the Trump style," Milbank lamented.
8th course: Last but not least, hake Filet-O-Fish wrapped in newspaper, battered and fried, and served in a newspaper tartar sauce, inspired by Trump's favorite dish at McDonalds. "It's not so bad … the newspaper really holds in the moisture," Milbank said.
RELATED: Chicago Hot Dog Stand Is Selling 3-Inch 'Footlongs' Inspired by Donald Trump
As for the Trump-brand wine, Milbank said it was "significantly better than gasoline," but, added Sietsema, "not quite as good as actual wine."
PEOPLE caught up with Milbank after his newspaper feast — which he topped off with an after-dinner drink of Pepto Bismol — and he said he was feeling "a little iffy in the digestive department but I think I'm going to pull through." The columnist said the wagyu steak was his favorite dish and its saving grace was that "it wasn't as overcooked as Trump would have liked it."
So does Trump know about Milbank's feast of words? "Well, he consumes quite a bit of news — he doesn't consume newsprint quite the way I do but he keeps himself pretty well aware," Milbank quipped. "I haven't heard from him or his people on this though; I think they're just going to let me suffer in silence."
RELATED: We Asked Rachael Ray to Create Burgers for the Presidential Candidates — Here's What She Came Up With
Although Milbank said the multi-course meal surprisingly "wasn't all that painful," he added that readers shouldn't expect him to "make it a double-or-nothing thing in the general election."
"I think I may have learned my lesson in terms of making promises," he told PEOPLE.
Until then, he added, "I have every reason to believe I will live to see the rest of this campaign. But I'm not sure I'm going to find that any easier to digest than the newsprint itself."
— Tierney McAfee, @tierneymcafee