Get Shaun T's Perfect 'Bikinis and Board Shorts' Workout for Summer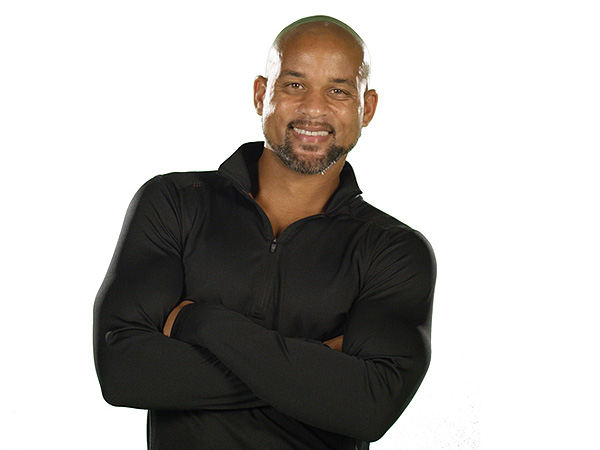 Guy D'Alema/ABC/Getty
If you're looking to tone up for the summer, look no further than Shaun T's "Bikinis and Board Shorts" workout.
The fitness expert put together a four-movement, 15-minute workout so you can firm up from head to toe.
"You gotta look good in the summer, but you gotta feel good too," he says. "So this is going to be a full body workout that's going to help you look good in that bikini, and good in your board shorts."
1. Standing ab burners
"You're just going to literally keep your leg nice and straight and lift up, keeping your core nice and straight, and you're going to engage. You're going to start to feel it in your hip flexors just a little bit – that's going to burn. But I want you to really crunch down in the core, because it's going to start to fire up in the abs." Do 30 seconds with each leg.
RELATED: Shaun T Blogs the Finale of My Diet Is Better Than Yours: What to Do When You Want to Give Up
Then you can take it up a notch, and do standing leg pulses, again 30 seconds on each leg. "Go back to the right leg and keep it up in the air, and you're going to pulse," Shaun T says. " The good thing about this, especially when we're talking about bikinis and board shorts, is not only are your abs going to get really great, but you have a slight bend in the supporting leg and it's really going to start to fire up your legs. When you work any body part, some other body parts are always benefiting."
2. Side hops
"The next exercise is all about cardio, and cardio is about burning calories. Sustained cardio for 30 minutes a day will get you the best results."
"Slightly bending the knees, you're going to hop side to side. What's happening here is you're firing up your legs. When you're firing up your legs, you're burning up the most calories because your legs are your largest muscle group in your body. When you start to really move your legs, not only do you burn calories, but it gets your heart rate up really, really quickly."
RELATED: All About the Workout That Keeps Missy Elliott in Shape
Do this for 60 seconds, and make your hops faster to turn it up a notch. "If it's too hard – all you have to do is tap side to side. You will still get results and you will still burn calories."
3. Arm jabs
"A lot of people think you have to lift dumbbells or you have to get on the floor to work your arms, but all you're going to do is a jab out front. When you're jabbing out like this, you want to make sure your fist stays right in line with your shoulder." Do 30 seconds with each arm.
4. Squatted heel lifts
"I'm going to go into a squat. Now, you know it burns calories because it's the largest muscle group, but I'm going to have a little twist for you that's really going to help you look good. As you squat down, you're going to lift your heels up." Do this for 60 seconds.
Repeat each exercise 3 times for a 15-minute workout.
"Not only will you look good in your bikini, but you'll feel good in your life."
–Julie Mazziotta @julietmazz