NKOTB's Donnie Wahlberg Gets Emotional Speaking About His Brother Mark: 'Look How Far We've All Come'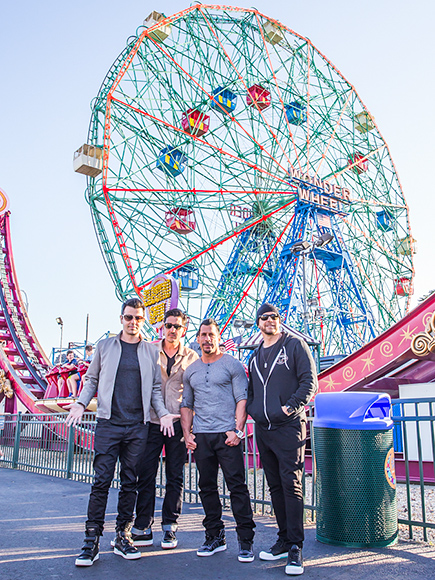 Joe Russo/Live Nation
With their bulging muscles and Boston accents, the Wahlberg brothers have a reputation for being one of the toughest (and most successful) sibling acts around — but that didn't stop Donnie Wahlberg from tearing up when reminiscing about their humble beginnings.

While being interviewed with his New Kids on the Block bandmates by his wife Jenny McCarthy on her SiriusXM show, the singer, 46, got emotional recalling how brother Mark Wahlberg, 45, credited him for his success during the band's 2011 concert at Fenway Park.
RELATED: Celebrate Mark Wahlberg's 45th Birthday with This Boozy Chocolate Shake Created by His Chef-Brother Paul
"I'm gonna cry," Wahlberg told McCarthy in front of the intimate group of fans gathered in the SiriusXM studios. "He was the original member of the band with me."
According to the star, the memories of those early moments with his younger brother are especially important now that both are busy with their own lives and careers.
RELATED: Donnie Wahlberg and Jenny McCarthy Have Hot Chocolate Together Every Night
"Obviously we're brothers and partners in business and our relationship is fine, but it's different," he said. "We've grown so far apart, just through work and career and things that are important." The brothers are co-owners of the family burger chain, Wahlburgers.
During NKOTB's appearance to promote the second season of PopTV's Rock This Boat and their upcoming summer concert in Coney Island, Brooklyn, Wahlberg explained to his wife that Mark's introduction struck a chord because it reminded him of the band's very first show where his brother was also the one to call them up on stage.
"When Mark acknowledged that he introduced us at the first show and now it's come full circle to acknowledging us and introducing us at Fenway, I'd forgotten that he did that," he said of the moment that made him realize how much they had accomplished over the years.
RELATED: This Is How Mark Wahlberg Really Felt About Naming His Family's Burger Chain Wahlburgers
Added the singer: "That's what moved me. It's the look how far we've all come."
Following their appearance on McCarthy's radio show, bandmates Wahlberg, Jordan Knight, Jonathan Knight-Rodriguez and Danny Wood continued their walk down memory lane with a visit to Luna Park in Brooklyn — the site of their 1988 music video "Please Don't Go Girl" — and a final stop at Wahlburgers Coney Island for a fan club Q&A.
The New Kids on the Block will perform at The Amphitheater at the Coney Island Boardwalk on August 4th. Tickets are on sale now.
—Ale Russian