Turn Your Orange Is the New Black Binge Watch into a Productive Exercise Routine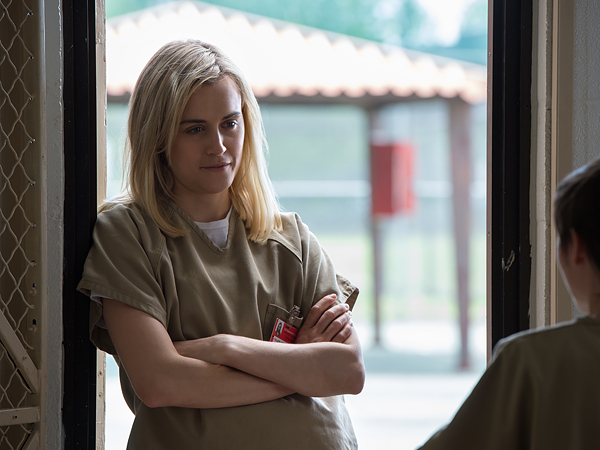 JoJo Whilden/Netflix
Orange Is the New Black returns on June 17 and you're probably looking forward to catching up with your favorite inmates. But instead of watching from the couch, hit the floor to squeeze in an exercise session.  Think of how many calories you could burn watching all of those episodes!

Try these easy moves suggested by Reebok trainer and owner of American Sled Dogs gym in Virginia Beach, Ashley Horner.
"Get on the floor when you're binge watching," says Horner. "It's easy to get active. You don't need equipment — get moving with body weight exercises." And we have just the inspiration…
1. Every time Piper complains … Do 10 mountain climbers
Start in pushup position. Drive one knee forward as far as possible while maintaining position while the other foot remains planted, toes pressed to the ground. Put back to starting position. Alternate knees back and forth. One rep from each leg counts as one mountain climber.

2. Every time Healy looks sad and pathetic … Do 7 shoulder taps
Start in a pushup position. Maintain steady form throughout – legs fully extended and straight, toes planted on the ground. Lift one hand off the ground, keeping your elbow position fixed and tap the opposite shoulder. Switch.

3. Every time Big Boo hits on a fellow inmate … Do 3 table dips
Start by sitting on a coffee table, arms extended, fingers curled over the edge. Shift your body off the table. Move your feet straight forward from the knees until legs are bent at a roughly 30-degree angle. With arms locked at the elbow and feet flat on the ground, drop the body. Descend, bending at the elbows, until butt almost touches the floor. Push back up to locked elbows, until butt is at the top of the movement.

4. Every time a CO threatens an inmate … Do 3 air squats
Stand with feet hip-width apart, with toes pointed slightly outward. Keep midsection tight, chest up and forward, and send butt and back down, with knees tracking over your feet. Lift arms up and out with each descent. Stop when the fold of the hip is below the knee. Squeeze glutes and hamstrings, and rise without leaning forward or shifting balance.

5. Every time inmates go through the cafeteria line … Do 3 standing lunges on each leg
Stand with feet together and toes pointing forward, chest up and knees slightly bent. Place hands on hips. Shoot one foot back in a straight line while bending the opposite knee and keeping that foot firmly planted. Extend the leg, plant the toes down and continue descent until the extended leg's knee taps the ground. Keep the chest up and eyes forward through the movement. Return to starting position and switch legs.

6. Every time Alex takes off her glasses … Do 3 Supermans
Lay face-down on the ground, legs spread apart, feet pointed down and slightly outward – just beyond a shoulder's width apart. Arms are spread out from body, bent at a 45-degree angle with hands pointed outward. Simultaneously raise arms, legs, and chest off of the floor and hold this contraction for 2 seconds. Lower arms, legs and chest back down to the starting position and repeat.