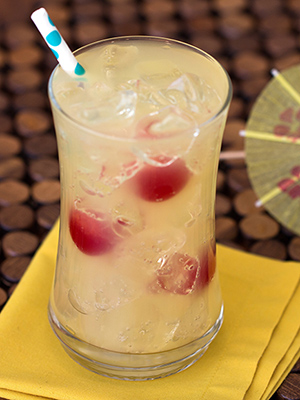 Courtesy Lisa Lillien
Lisa Lillien is the author of the popular Hungry Girl website and email newsletter, featuring smart, funny advice on guilt-free eating. She is also the author of eleven books, six of which debuted at number one on the New York Times Best Sellers list. Read her PEOPLE.com blog every Monday for slimmed-down celebrity recipes and more.
Summer is the time to cut loose and have a great time. Nobody wants to stress about their diet at the bar, but you also don't want to slurp down hundreds of sugary calories with your good-time drinks. Not to worry, I've got a few easy cocktail orders most places can put together without any eye-rolling from the bartender. The best part? Each one has less than 150 calories!
RELATED: Hungry Girl: The New, Diet-Friendly Fast Food Items You Need To Know About
*Heads up: Whatever you do, don't mistake club soda for tonic water; club soda is calorie-free, but tonic water has around 90 calories per cup.
Blueberry Vodka + Club Soda + Orange Wedge
If the idea of a plain vodka-soda bums you out, explore the selection of fruit-flavored vodkas. They've got that extra yumminess without the extra calories. I love blueberry vodka, but try whatever sounds good to you. And a hearty squeeze of citrus will make it even more refreshing. Only around 110 calories in this one.

Coconut Rum + Club Soda + Splash of Pineapple Juice
The too-sugary tropical cocktails on the menu often contain hundreds and hundreds of calories. I know, it's summer and you want a beachy drink and you can totally have one! This combo is sweet and delicious, but keeps the calorie total under control (about 120 a pop).
RELATED: Hungry Girl: Cook Once and Eat for the Whole Week with This Spaghetti Squash Casserole
Tequila + Club Soda + Cherries + Splash of Orange Juice
Think of it as a tequila sunrise's fizzy sister. A standard tequila sunrise contains grenadine, which is loaded with sugar. A couple of cherries are a much smarter way to go. And a simple splash of that OJ is all you need. This one's a steal for around 140 calories. Cheers!
'Til next time… Chew (and sip!) the right thing!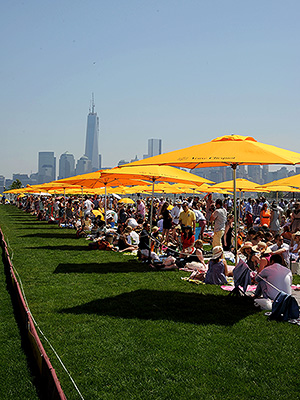 Dimitrios Kambouris/Getty
Beautiful scenery, stylish summer suits, free-flowing champagne and plenty of polo – there's so much to love about the Veuve Clicquot Polo Classic.
Read More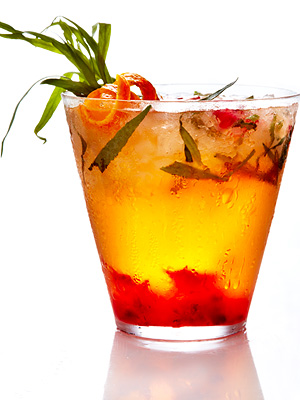 Greg Dupree
The 142nd Kentucky Derby is on May 7 (post time is 6:34 p.m. EST, to be exact)—but before you whip out your annual batch of mint julep recipes, we've got another idea.
Read More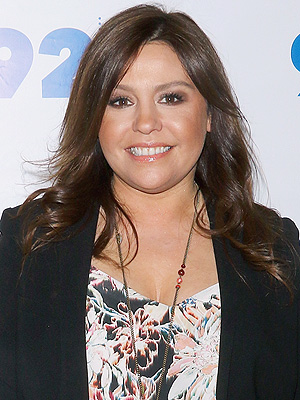 Getty (2)
She's not "Becky with the good hair," but Rachael Ray can still make a mean lemonade.
Read More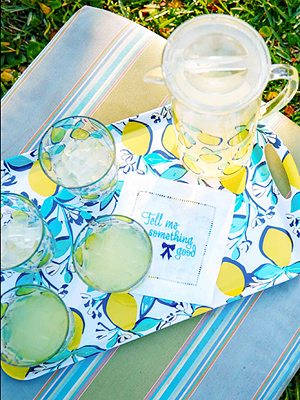 Draper James
It may be spring but this unpredictable weather has us dreaming of summer, when sunny days are pretty much a guarantee and we can confidently step outside without our winter coats.
To prep ourselves for bathing suit season, we're skipping the gym in favor of sipping a drink: spiked lemonade sweet tea. Sophisticated and refreshing, it's the kind of beverage that puts you in a warmer, happier place, no matter what the temperature is outside.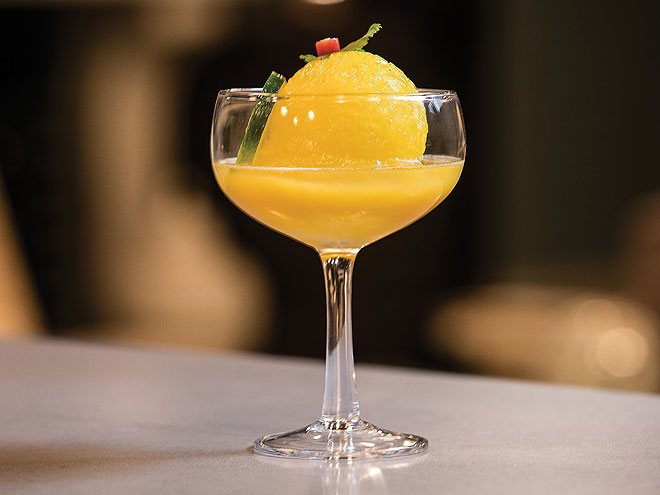 FYI Network
El Sol
3 large ripe mangoes, peeled, seeds removed and roughly chopped
¼ cup agave
½ cup coconut water
4 oz. blanco tequila
1. In a high speed blender, add mango, agave and coconut water. Puree until smooth. Pour into a pitcher, add tequila and mix well.
2. Pack a round scoop of shaved ice. Add ice to coupe glass. Pour mango puree over entire ice cube. Garnish with slice of lime, cilantro, and sliced red chili pepper, if you wish. Serve with a straw.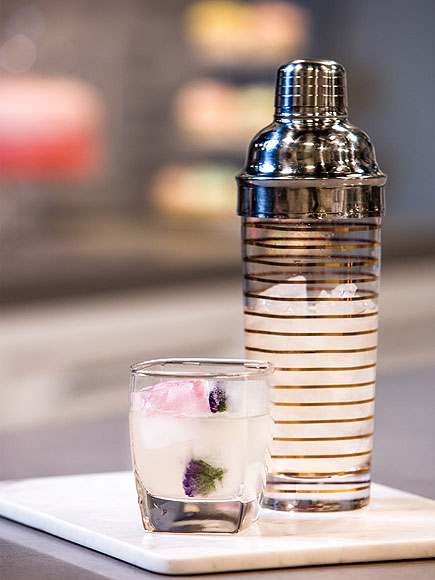 FYI Network
Treasure Cocktail
Assorted edible flowers, Lavender, Mint, Juniper berries, Raspberries
Filtered water
2 limes
1 cup basil, cleaned and dried
5 strawberries, sliced in half
1 bottle of high quality Vodka
¼ oz. simple syrup
1. In an ice cube mold, in each cube add lavender, raspberries, rose petals, juniper berries, herbs, edible flowers. Fill with filtered water. Squeeze lime juice over tray. Freeze overnight.
2. In a small saucepan over medium heat, add 1 cup of water and 1 cup of sugar. Bring to a simmer for 5 minutes. Turn off heat and let cool. Can keep in the refrigerator for 1 week.
3. In a pitcher, add basil and vodka, making sure to cover basil with all of vodka. Basil will turn slightly brown. Infuse for 1 day. Then add strawberries to basil and vodka. Marinate for 1 more day. Strain vodka back into bottle, removing basil and strawberries.
4. In a cocktail shaker, add 1 ounce vodka, simple syrup, and juice of half a lime. Shake vigorously. Strain into a rocks glass filled with flavored ice cubes. Serve.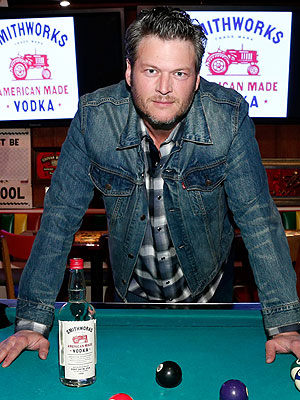 Rich Polk/Getty
The only thing more country than being a country artist is introducing a line of Arkansas-made vodka.

Courtesy Lowes Hollywood Hotel/FilmMagic
Sure, come Sunday night, only one movie can take home the Best Picture Oscar statue. But over at the Loews Hollywood Hotel, next door to the award show's Dolby Theatre and a bustling hub of activity in the days leading up to Oscar Sunday, every film's a winner. To celebrate this year's Best Picture nominees and keep, well, spirits high, the Loews has created fun Oscar-themed specialty cocktails (Life on Mars, anyone?). Here's how to serve up a little bit of Hollywood cheer while you toast this year's nominees on Sunday.
The Front Page (inspired by Spotlight)
1 oz. rum
3 oz. pinot noir
¾ oz. triple sec
¾ oz. agave syrup
orange & pineapple juices
1. Build in all ingredients into glass with ice. Add equal parts of orange and pineapple juices. Garnish with orange slice and cherry.

Courtesy Lowes Hollywood Hotel/FilmMagic
Life on Mars (inspired by The Martian)
1 ½ oz. tequila
½ oz. aperol
¾ oz. grapefruit juice
½ oz. agave syrup
½ oz. lemon juice
1. Build in all ingredients into glass with ice. Tumble then pour back into glass. Garnish with lemon slice.

Courtesy Lowes Hollywood Hotel/FilmMagic
Bubble Burst (inspired by The Big Short)
1 oz. black raspberry liqueur
1 oz. pineapple juice
¾ oz. agave syrup
¾ oz. lemon juice
½ oz. prosecco
1. Add all ingredients into mixing glass. Add ice and shake. Strain into flute glass. Top off with Prosecco. Garnish with blackberry on rim.
RELATED: Culinary Stars Share Their Favorite Recipes to Serve at an Oscar Viewing Party

Courtesy Lowes Hollywood Hotel/FilmMagic
Bear-ly Alive (inspired by The Revenant)
2 oz. bourbon whiskey
½ oz. orange-flavored liqueur
1 oz. pineapple juice
½ oz. agave syrup
strawberries
1. Add 4 strawberries and agave into mixing glass. Muddle well. Add ingredients, ice and shake. Strain into glass and garnish with mint leaf.
Mission of Spices (inspired by Bridge of Spies)
2 oz. gin
½ oz. ginger-flavored liqueur
¾ oz. agave syrup
¾ oz. orange juice
mango
jalapeno
1. Add 2 slices of mango and 2 thin slices of jalapeno into mixing glass. Muddle well. Add ingredients, ice and shake. Strain into glass and garnish with jalapeno slice on rim.
RELATED: How to Make Award-Worthy Sugar Cookie Statues for the Oscars
–Lizz Leonard