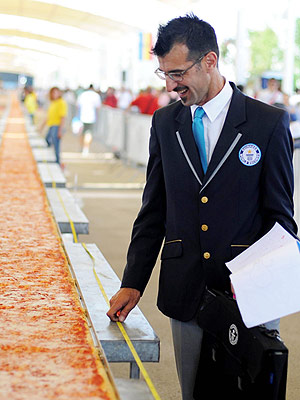 Daniele Mascolo/ANSA/AP
Thanks to 1.7 tons of flour, 1.5 tons of mozzarella, 2 tons of tomato sauce and an unknowable supply of olive oil, your wildest pizza fantasy just came true.
On Saturday at the 2015 Milan Expo, the humble margherita pizza broke a remarkable world record. Cooked using five onions, the record-breaking pizza stretched for 1 mile (well, just about: 1.59545 kilometers long.)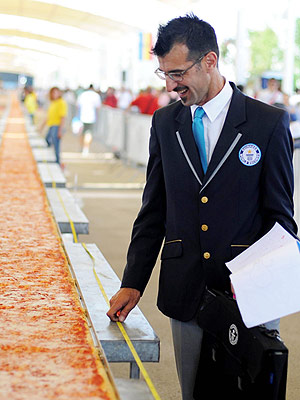 Daniele Mascolo/ANSA/AP
The Sydney Morning Herald reports that 80 chefs from all over Italy took part in the building the pizza, which extended over 800 tables, stole the title from Spain, which held the record at 1141.5 meters.
The occasion celebrated the margherita pizza's 126 birthday.

Kyodo/AP
Fret not: Expo visitors (all 30,000 of them) had the opportunity to wait in line to taste the creation. Because a pizza is a terrible thing to waste.
—Maria Yagoda