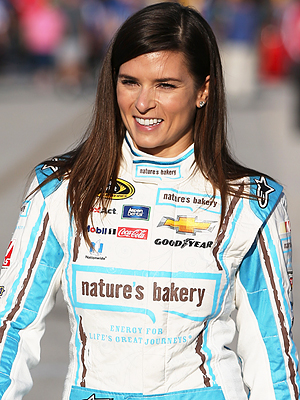 Sean Gardner/Getty
NASCAR driver Danica Patrick races almost 40 weekends a year so she is constantly on the go – so to stay healthy, she makes sure she brings fresh groceries on the road with her.
Read More

Roy Rochlin/FilmMagic
Anthony Bourdain is known for his strong opinions, so it's no surprise he has some sentiments about New York mayor Bill de Blasio's Chick-Fil-A boycott.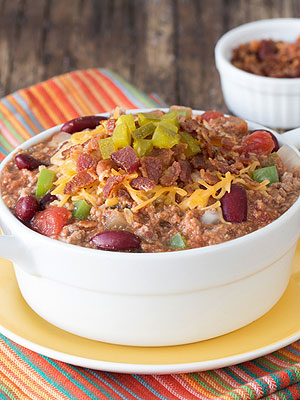 Courtesy Lisa Lillien
Lisa Lillien is the author of the popular Hungry Girl website and email newsletter, featuring smart, funny advice on guilt-free eating. She is also the author of eleven books, six of which debuted at number one on the New York Times Best Sellers list. Read her PEOPLE.com blog every Monday for slimmed-down celebrity recipes and more.
When Father's Day rolls around celebrate with something fun, hearty, and a little decadent. The part you can keep secret from dad? This burger-inspired chili is actually pretty healthy.
RELATED: Hungry Girl: My 150-Calorie Cocktails Are the Perfect Summer Sippers
Instead of putting chili on a bacon cheeseburger, I put the bacon cheeseburger flavor right into the chili! And since it's a slow-cooker recipe, it leaves you with plenty of pre-dinner hangout time with your father. (And that's what he really wants anyway, right?)
'Til next time… Chew the right thing!
RELATED: Hungry Girl: 4 Easy Food Hacks to Save Your Summer BBQ
Bacon Cheeseburger Chili
Makes 7 servings
1 cup canned crushed tomatoes
½ cup ketchup
2 tbsp. Worcestershire sauce
2 tsp. yellow mustard
1 15-oz. can red kidney beans, rinsed and drained
1 14.5-oz. can diced tomatoes (not drained)
1 cup chopped onion
1 cup chopped bell pepper
1 lb. raw extra-lean ground beef (4% fat or less)
2 tsp. chopped garlic
2 tsp. chili powder
1 tsp. ground cumin
4 slices center-cut bacon or turkey bacon
7 tbsp. shredded reduced-fat cheddar cheese
Optional topping: chopped pickles
1. Spray a slow cooker with nonstick spray. In a large bowl, combine crushed tomatoes, ketchup, Worcestershire sauce, and mustard. Mix until uniform. Add beans, diced tomatoes, onion, and pepper. Stir to coat.
2. Place raw beef in a slow cooker. Sprinkle with garlic, chili powder, and cumin; mix well. Top with saucy veggie mixture, and thoroughly stir, breaking up the meat as much as possible.
3. Cover and cook on high for 3 – 4 hours or on low for 7 – 8 hours, until beef is fully cooked and veggies have softened. Stir well.
4. Cook bacon until crispy, either in a skillet over medium heat or on a microwave-safe plate in the microwave. (See package for cook time.)
5. Top each serving with 1 tbsp. cheese. Chop or crumble bacon, and sprinkle over each serving (about 1 tbsp. each).
1/7th of recipe (about 1 cup): 237 calories, 6g total fat (2.5g sat fat), 677mg sodium, 24g carbs, 5.5g fiber, 10.5g sugars, 22g protein
Active time: 15 minutes
Cook time: 3 – 4 hours or 7 – 8 hours, plus 5 minutes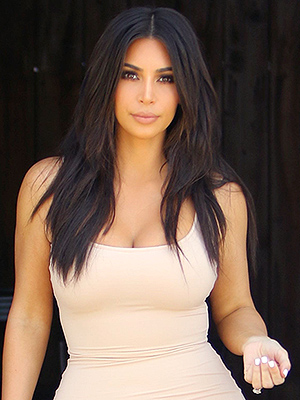 Splash News Online
No wonder Kim Kardashian West lost the baby weight already!

Getty
Gigi Hadid may be one of today's most buzzed-about supermodels, but she knows her way around the kitchen, too.
Read More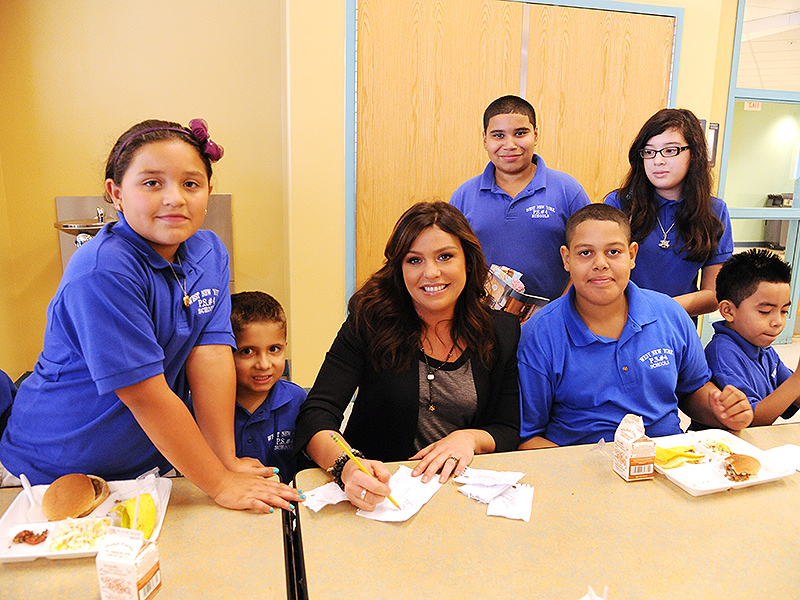 David E. Steele/Disney/ABC
Rachael Ray is usually concerned with what we're eating—but this week, as she launches a campaign to help make sure all New York City public school kids have access to a free lunch program, she is focusing on kids and what they're not eating.
Read More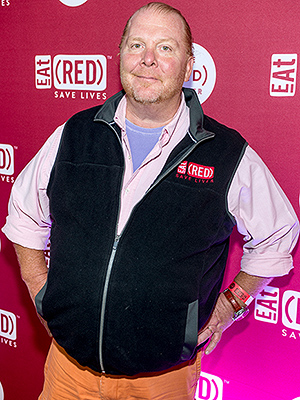 Getty
Mario Batali may have just changed the game for those who wake up feeling not-too-hot after a night out.
Read More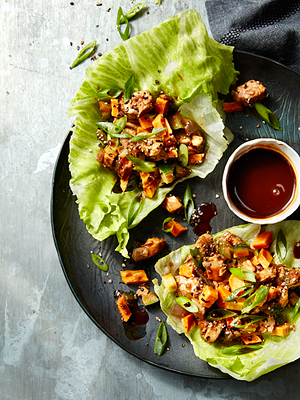 Greg Dupree
Summer is upon us—and while bikinis and beaches are great, we're most excited because warm weather means it's time to start eating with our hands again.
Read More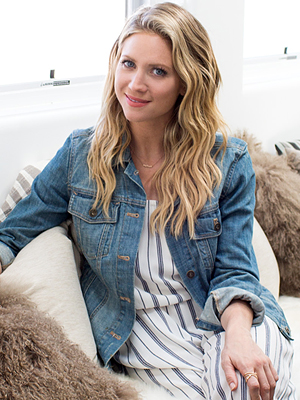 Courtesy Scott Clark for Crate and Barrel
Brittany Snow's newly decorated Los Angeles home is perfectly on pitch with the actress's personal style.