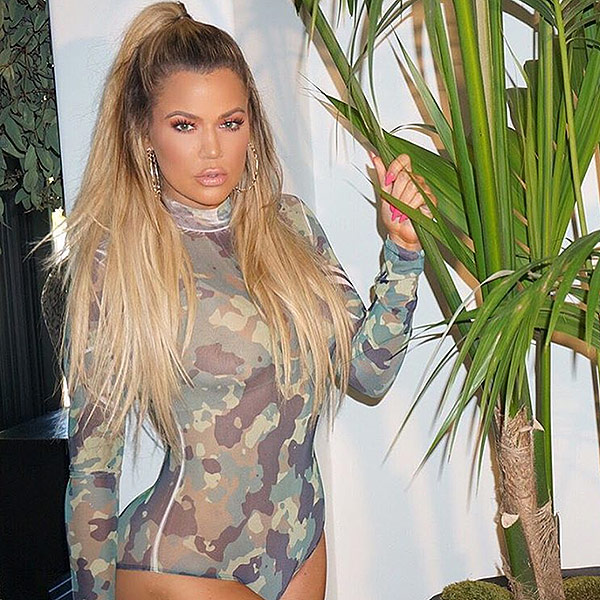 Khloe Kardashian/Instagram
Forget bathing suit season – Khloé Kardashian is all about bodysuit season.
The reality star shared her favorite workout moves for looking taut and toned in slinky spandex on her blog.
RELATED: Khloé Kardashian Shares 5 (Really Easy!) Diet Tips That Helped Her Lose 40 Lbs.
"A bodysuit is perfect under jeans, pencil skirts and leather pants – or on its own, depending on how frisky I feel, LOL," Kardashian says. "Because of the tight fit, I like to work out my abs and hips before I wear one. No muffin top, please!!!"
Here's three of her favorite moves to "look bangin' in a bodysuit!"
Mountain climbers
"Start in the plank position, with your palms on the floor directly underneath your shoulders. Use your abs to bring your left knee towards your right elbow, keeping your shoulders squared. Bring your body back to starting position and repeat with your right knee. Do 2 sets of 10 reps."
For an extra burn, Kardashian suggests putting your toes on a small towel. "It helps isolate ab muscles!"
RELATED: Khloé Kardashian Breaks Down How She Organizes Her Incredible Fitness Closet
Front plank hip dip
"Start on your right side and raise your body off the ground, using your forearm and the sides of your feet for support." Then lower your hips to the ground, and come back up, doing 3 sets of 10 reps on alternate sides.
Wrap twist
"Stand with your feet a little further than hip-width apart and point your toes outward. Extend your arms to the side with your palms facing outwards, and twist your torso to the left. While you twist, move your arms so that your right hand ends up near your left hip, and vice versa."
RELATED: Khloé Kardashian Reveals 'The One Exercise You Need to Boost Your Booty'
"Keep your hips in place while you do this!" she advises. "Hold for a breath, then repeat. Do 2 sets of 20 reps, alternating sides."
Hey – if we can get abs like Khloé's, we'll do as many wrap twists as she says!
–Julie Mazziotta @julietmazz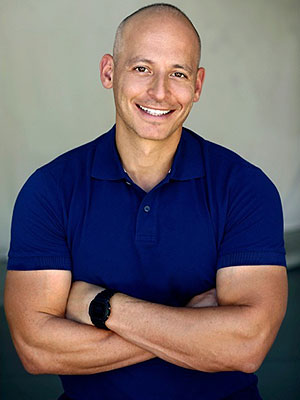 Courtesy Harley Pasternak
Harley Pasternak is a celebrity trainer and nutrition expert who has worked with stars from Halle Berry and Lady Gaga to Robert Pattinson and Robert Downey Jr. He's also a New York Times best-selling author, with titles including The Body Reset Diet and The 5-Factor Diet. His new book 5 Pounds is out now. Tweet him @harleypasternak.
As our understanding of human nutrition grows, we must revise our misconceptions and accept new truths. For example, we now know that eating fat isn't what makes you fat. Nor is losing weight just a matter of consuming fewer calories. Recent research about the human microbiome is also changing our understanding of the role of bacteria and other microbes in how we metabolize food.
We have found that certain so-called "health foods" actually aren't all that healthy. Look at former all-stars like orange juice, granola, rice cakes, fruit leather and low-fat salad dressing, for starters. We've also demonized certain foods, only to find out later that they have benefits of which we were not aware or that we thought were trumped by what we thought were their flaws.
The following three foods have been considered unhealthy for decades, but now it's time to accept a new reality.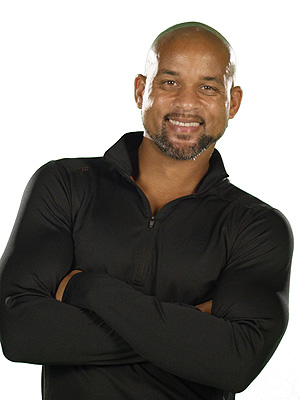 Guy D'Alema/ABC/Getty
If you're looking to tone up for the summer, look no further than Shaun T's "Bikinis and Board Shorts" workout.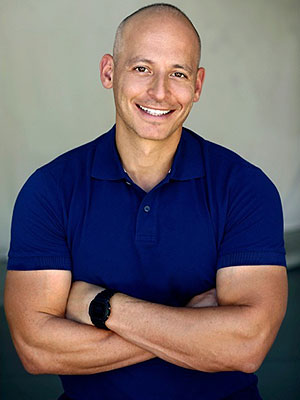 Courtesy Harley Pasternak
Harley Pasternak is a celebrity trainer and nutrition expert who has worked with stars from Halle Berry and Lady Gaga to Robert Pattinson and Robert Downey Jr. He's also a New York Times best-selling author, with titles including The Body Reset Diet and The 5-Factor Diet. His new book 5 Pounds is out now. Tweet him @harleypasternak.
Norway may be a small country, but its leaders think big. Oslo, the country's capitol, recently announced that it would ban all cars within the city center by 2019. To achieve this goal, city leaders have committed to building 35 more miles of bike lanes and investing heavily in public transportation. Paris has already declared certain heavily-trafficked areas around the Eiffel Tower and other landmarks car-zones. By 2020, Madrid will eliminate car traffic in a 500-acre portion of the city. Is this a trend? Will it come to the United States? I sure hope so.
It's also the perfect excuse to show off our latest obsession: Sunny Life's mini pineapple votives, which flawlessly set the vibe for any gathering and burn without a trace of scent. Packaged in a group of six, these tiny tea lights fit into even the smallest space and pack a colorful decorative punch. And priced at just $15 for the collection (that makes each one less than $3 a pop), you might want to stock up on these festive no-brainers.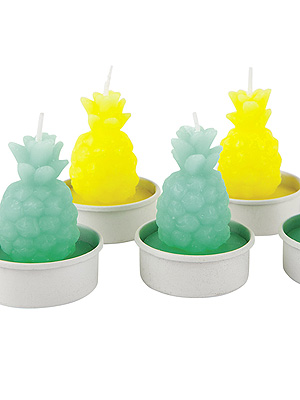 Courtesy People Shop Read More
Peter Callahan's Spiked Watermelon Pops
1 (2-to 3-lb.) seedless watermelon
¼ cup triple sec
24 lollipop sticks
24 small mint leaves
1. Slice the watermelon into 1/3-in.-thick slices, and use a 1½-in. cookie cutter to stamp out rounds.
2. Pour the triple sec into a baking dish, and soak the watermelon in a single layer for about 1 minute, then flip the rounds over. Continue soaking for at least 4 hours and up to 8 hours.
3. Insert a lollipop stick into the center of each round, and press a mint leaf on top. Serve immediately or slightly chilled in the fridge.
Mario Batali's Turkey Meatballs
10 cloves garlic, divided
1 lb. ground turkey
1 lb. ground pork
2½ cups fresh bread crumbs
½ cup milk
2 large eggs, lightly beaten
1 tbsp. chopped fresh rosemary, plus 1 sprig
2 tbsp. red pepper flakes, divided
1-2 tbsp. salt
1 tbsp. freshly ground black pepper
¼ cup extra-virgin olive oil
3 red onions, thinly sliced
1 cup dry red wine
2 cups your favorite tomato sauce
2 tbsp. Italian parsley, chopped
1. Preheat oven to 475°. Finely chop 4 garlic cloves and place in a large bowl. Add turkey, pork, bread crumbs, milk, eggs, chopped rosemary, 1 tbsp. red pepper flakes, salt and pepper. Mix lightly until just combined. Form into golf-ball-size meatballs and place in a shallow casserole. Roast meatballs until dark golden brown, about 15 minutes. Remove from oven. Reduce oven temperature to 350°.
2. Meanwhile, thinly slice remaining 6 garlic cloves. In a large, ovenproof skillet, heat olive oil over high heat until smoking. Add garlic and onions. Reduce heat to medium and cook until well browned, about 5 to 8 minutes. Add 1 tbsp. red pepper flakes, wine and rosemary sprig. Bring to a boil and cook until wine is reduced by half. Add tomato sauce and simmer for 15 minutes. Add meatballs and bake for 1 hour. Serve in shallow bowls with sauce. Top with parsley.
Wolfgang Puck's Fig Jam Grilled Cheese
8 slices white or sourdough bread
¼ cup fig jam
¼ cup honey
6 oz. white cheddar cheese, sliced
6 oz. mozzarella cheese, sliced
¼ cup melted butter
Pinch of sea salt
1. Heat a nonstick skillet or griddle over medium-low heat. Spread fig jam on 4 slices of bread, and spread honey on the other 4 slices. Layer with cheddar and mozzarella; sandwich the slices together.
2. Brush the bread with butter. Place the sandwiches, butter-side- down, in the hot pan. Brush the other sides with butter. Cook until golden brown and the cheeses have melted, 5 to 7 minutes per side.
3. Transfer sandwiches to a cutting board; let them rest for 1 minute. Cut into quarters and sprinkle with a pinch of sea salt. Serve hot.
Marcella Valladolid's Lime Cream Trifles
1 (12-oz.) store-bought pound cake, cut into 1-in. cubes (about 6 cups)
2 cups heavy whipping cream
¼ cup powdered sugar
1 (14-oz.) can sweetened condensed milk
1 (12-oz.) can evaporated milk
4 limes, zested and juiced
Garnish: lime slices, crushed graham crackers
1. Preheat oven to 400°. Spread pound cake cubes in a single layer on a baking sheet. Bake until cake is golden brown, about 10 minutes. Cool completely, about 15 minutes.
2. Beat whipping cream and sugar at high speed with an electric mixer until stiff peaks form.
3. Process the condensed milk, evaporated milk and ½ cup lime juice in a blender until smooth.
4. Spoon 1 cup of lime mixture into a large glass trifle dish (or divide among 10 tall, individual glasses). Sprinkle with ½ tsp. lime zest. Spread 2 cups pound cake cubes over the lime mixture in a single layer, and top with 1 cup sweetened whipped cream. Repeat layers twice. Top with remaining lime mixture, and sprinkle with remaining ½ tsp. lime zest. Top with remaining sweetened whipped cream in center. Cover tightly with plastic wrap, and chill until set, at least 2 hours or up to 12 hours. Before serving, garnish with lime slices and crushed graham crackers, if desired.
Gramercy Tavern's Bacon Cheddar Biscuits
2¼ cups all-purpose flour
3¾ tsp. baking powder
1 tsp. salt
1/8 tsp. ground red pepper
½ cup diced slab bacon (about 3 oz.)
3 tbsp. unsalted butter, cubed and chilled
¾ cup shredded sharp Cheddar cheese (about 3 oz.)
1½ cups heavy cream
2 tbsp. unsalted butter, melted
1. Combine flour and next 3 ingredients; cover and freeze 8 hours.
2. Preheat oven to 425°F. Cook bacon over medium-low heat about 6 minutes or until bacon is brown but not crisp; drain on paper towels. Cool completely.
3. Toss cubed butter with flour mixture in a large bowl; mix with hands, flattening butter until mixture resembles coarse crumbs. Stir in cheese and bacon. Add cream; stir until just combined. Scoop dough evenly into 1 tbsp. mounds; arrange 1 in. apart on baking sheets.
4. Bake 8 to 10 minutes or until golden and cooked through. Transfer biscuits to a wire rack; brush with melted butter. Serve hot or at room temperature.