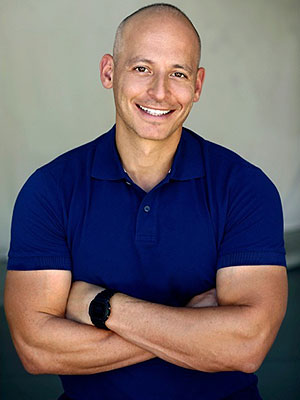 Courtesy Harley Pasternak
Harley Pasternak is a celebrity trainer and nutrition expert who has worked with stars from Halle Berry and Lady Gaga to Robert Pattinson and Robert Downey Jr. He's also a New York Times best-selling author, with titles including The Body Reset Diet and The 5-Factor Diet. His new book 5 Pounds is out now. Tweet him @harleypasternak.
Read More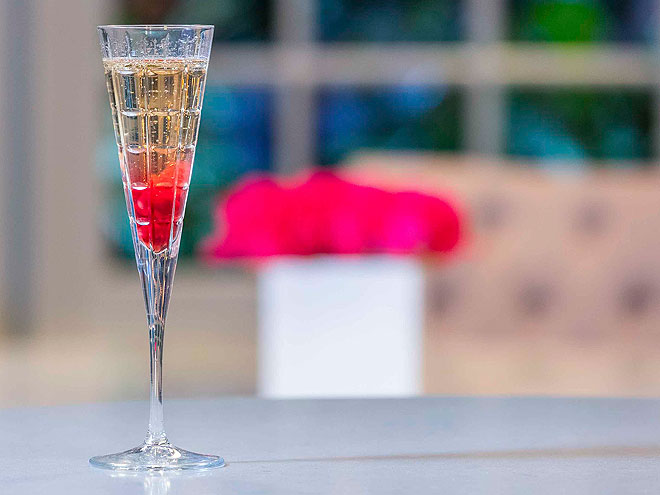 FYI Network
Le Grande Visage
2 cups pomegranate juice
½ cup vodka
¼ cup orange liquor
¼ cup pomegranate seeds
1 sprig sage
1 bottle of Champagne
1. In a sauce pan on medium low heat, bring all ingredients except champagne to a simmer for 2 to 3 minutes. Remove from heat and let cool completely. In tubular ice mold, pour pomegranate mix into ice mold, making sure to get some seeds and sage leaves into each ice mold. Place in freezer overnight.
2. In a flute glass, add 1 ice mold into glass then, slowly fill with champagne. Serve immediately.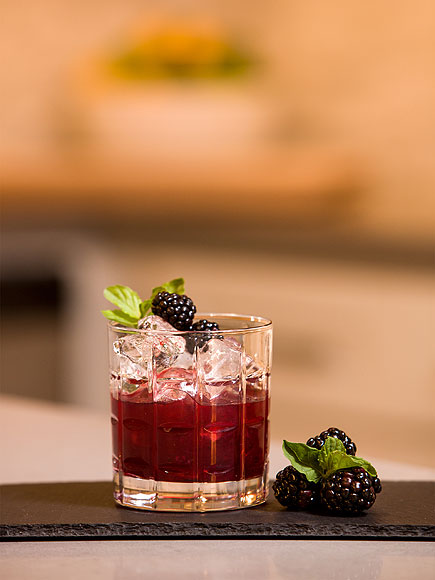 FYI Network
THE DARKER THE BERRY
Serves 1
½ oz. dark rum
½ oz. white rum
2 tablespoon simple syrup
3 leaves mint
2 to 3 black peppercorns
Splash of club soda (optional)
Simple Syrup:
1 pint of blackberries
1 vanilla bean, split in half long ways
1 cup of water
1 cup of cane sugar
1. Reserve ¼ cup blackberries, set aside. In a sauce pot, on medium low heat, add rest of the blackberries, vanilla bean, water and sugar. Bring to a simmer and let cook for 20 minutes. Remove from heat, and push thru a fine mesh sieve. Let cool.
2. In a large glass, add 3 to 4 blackberries, 3 mint leaves and peppercorns. Muddle until berries burst. Add rums, simple syrup and gently stir. Strain into a rock glass filled with ice. Garnish with blackberries and mint.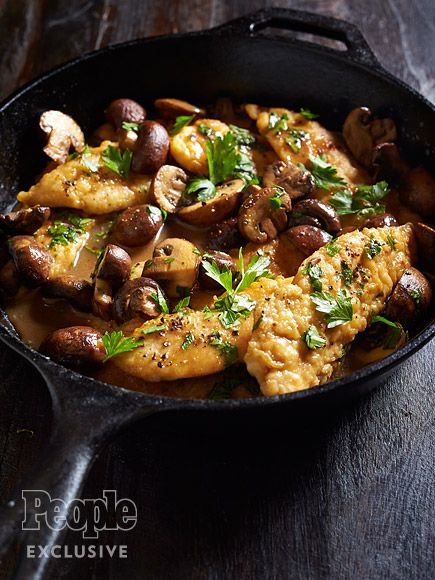 Hector Sanchez
Chicken and Mushroom Marsala
Serves: 4
1 lb. chicken breast tenders
½ cup all-purpose flour
1 ½ tsp. coarse salt, divided
¾ tsp. freshly ground black pepper, divided
¼ cup canola oil
8 oz. cremini mushrooms, stemmed and cut into 1-in. pieces
½ cup dry Marsala wine
½ cup chicken stock
2 tbsp. unsalted butter
¼ cup chopped flat-leaf parsley or chives, plus more for garnish
1. Place chicken on a cutting board in a single layer, and cover with plastic wrap. Lightly pound using flat end of a meat mallet until tenderloins are ¼-in. thick.
2. Stir together flour, ½ tsp. salt and ½ tsp. pepper in a wide, shallow bowl.
3. Heat oil in a large skillet over medium heat until shimmering. Dip chicken pieces in the flour mixture, turning to coat both sides. Shake off excess flour and place in the heated skillet. Cook 3 minutes on each side, or until golden and cooked through. Remove from skillet and keep warm.
4. Add mushrooms to skillet and sauté over medium-high heat for 5 minutes, until water has evaporated and mushrooms are browned. Season with remaining 1 tsp. salt and ¼ tsp. pepper. Add wine, and bring to a boil over medium heat for 1½ minutes, or until reduced by half. Add chicken stock, and simmer for 5 minutes, until sauce reduces slightly. Stir in butter.
5. Return chicken to pan, and simmer gently for 1 minute to heat through. Garnish with parsley or chives before serving.
Prep time: 15 minutes
Cook time: 20 minutes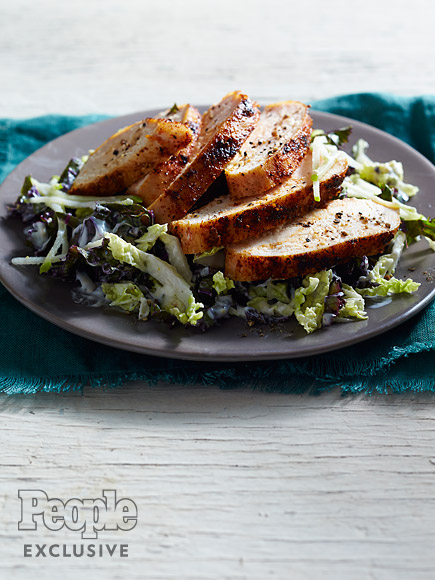 Hector Sanchez
Lorena Garcia's Grilled Chicken with Kale Slaw
Serves: 4
2½ tsp. kosher salt, divided
1½ tsp. freshly ground black pepper, divided
1 tsp. cumin
1 tsp. chili powder
Zest of 1 lemon
4 chicken breasts
2 tbsp. vegetable oil
½ cup low-fat Greek yogurt
¼ cup mayonnaise
1 tbsp. rice vinegar
½ tbsp. lime juice
1 tsp. lime zest
½ tsp. minced garlic
2 tsp. Dijon mustard
1 cup packed and finely chopped kale
1 cup Napa cabbage, packed and finely chopped
1 cup green apple, julienned
1. Preheat a grill or grill pan on high heat. Combine 1½ tsp. salt, 1 tsp. pepper, cumin, chili powder and lemon zest in a small mixing bowl.
2. Rub chicken breast with oil and season with the spice mixture. Grill the chicken for 10 minutes on each side or until cooked through. Remove from heat; let the chicken rest for 3 to 5 minutes, and then slice.
3. For the slaw, whisk together 1 tsp. salt, yogurt and next 6 ingredients in a medium bowl. Add kale, cabbage, apples and remaining pepper; toss until well coated. Serve with the sliced chicken breasts and lime crema sauce (below).
Prep time: 20 minutes
Cook time: 20 minutes
Lime Crema Sauce
Combine ½ cup Greek yogurt, ¼ cup sour cream, 4 tbsp. lime juice, 1 tsp. kosher salt and ½ tsp. freshly ground black pepperin a blender, about 1 minute. Pour into a bowl and fold in zest of 1 lime.
Tokyo Soul
1 oz. lemon vodka
½ oz. matcha green powder
½ oz. ginger syrup
1 tsp. lemon juice
1 oz. soda water
Crystallized ginger, for garnish
Ginger syrup:
1 cup water
1 cup sugar
3 inch piece of ginger, peeled and smashed
1. In a small sauce pan, add water, sugar, and ginger. Let boil and stir until sugar is dissolved. Turn down to a simmer for 5 minutes. Turn off heat and let cool. Remove ginger. Can be refrigerated for 1 week.
2. In a small pot, bring 1 cup water to a boil. Turn off heat. Add matcha powder and whisk. Let cool.
3. In large glass, add vodka, matcha green tea, ginger syrup and lemon juice, stir. Fill a high ball glass with ice. Pour drink into highball and top with soda water. Garnish with crystallized ginger.
The Tingle
Serves 1
10 grapes on the stem, plus more for garnish
¼ cup honey
1 basil leaf, plus 1 for garnish
1 tsp. lime juice
1/2 oz. lillet blanc
2 oz. gin
Club soda
1. Freeze grapes. In a small sauce pan on low heat, add honey to ¼ cup water. Bring to a simmer for 3 minutes. Let cool.
2. In a cocktail shaker, add 10 frozen grapes (stem and all), basil leaf, lime juice and 1 tsp. honey syrup. With the back end of a spoon or muddler, crush grapes with basil. Add a scoop of ice, lillet, and gin. Shake well. Strain into a glass. Add a splash of club soda. Top with frozen grapes and a small basil leaf.
Daddy's Home
Makes 1 drink
¼ cup walnuts
1 cup water
1 chamomile tea bag
1 cup brown sugar
2 oz bourbon
½ oz walnut simple syrup
2 to 3 dashes of orange bitters
Maraschino cherry
Lemons
1. Preheat oven to 400°F. On a sheet tray, add walnuts. Toast for 15 minutes, until dark brown. Shake after 5 minutes. Remove from oven.
2. In a small saucepan, bring 1 cup of water to a simmer. Add the chamomile tea bag and brew for 2 minutes. Add 1 cup brown sugar, toasted walnuts. Stir to dissolve sugar. Let sit for until cooled. Can be kept in the refrigator for 1 week.
3. In a small pitcher add bourbon, walnut simple syrup, and orange bitters. Stir. Pour over large ice cube. Garnish with a cherry and a lemon twist.
Velvet and Stone Cocktail
1 bottle of Silver or blanco Tequila
1 habanero, cut in half
1 small watermelon
Lime juice
Simple syrup (1 part sugar and 1 part water, dissolved in a saucepan and cooled)
Fine sea salt
1. Place habanero in a bottle of tequila. Marinate for 1 to 2 days. Remove the habanero after 3 days.
2. Remove rind of watermelon, cut watermelon into cubes. Puree cubes in a blender until smooth. In a fine mesh strainer, strain the watermelon pulp. Discard the pulp.
3. Dip rim of glass into lime juice, then into black salt. Set aside.
4. In a cocktail shaker add 2 oz. watermelon juice, 1 1/2 oz of tequila, ¾ oz of lime juice, 2 teaspoons simple syrup and ice. Shake vigorously until well chilled. Strain into glass. Serve with a lime twist.